Reader's Digest: A Golfing Joke Gone Bad

Domestic violence victims groups blast magazine's joke about murder.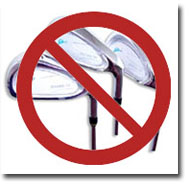 This isn't exactly the shot you'd think to use your five iron for.
Last month's issue of Reader's Digest featured a joke submitted by a reader about police officers finding a man in an apartment, holding a golf club and standing over the "lifeless body" of a woman. In the joke, when asked how many times he struck the woman, the man replied: "I don't know. Five … maybe six … Put me down for a five."
Now, advocates for domestic violence victims are speaking out against the joke and the magazine. "Women have a hard enough time coming forward to report the abuse and/or to leave their abuser—now she gets to feel as though it's ok for people to joke about it?" a victim advocate for Bolton Refuge House, a nonprofit support service for domestic violence victims, wrote in a letter to the magazine. "It's obvious that you have no sensitivity to victims of domestic violence and have no clue of the prevalence of this crime."
In responses to the outcries, a Reader's Digest spokesperson told the Associated Press that it takes domestic violence "very seriously, and clearly this joke crossed the line."
I must have missed the joke when I flipped through that issue of Reader's Digest but can't imagine how that one slipped past its editors. I agree that a joke of that nature—submitted by a reader or not—has no place in a magazine like Reader's Digest.
Meet the Author
---