Reader's Digest to Cut Frequency, Slash Rate Base by 2.5 Million

Publisher looks to reallocate resources to branded multimedia initiatives.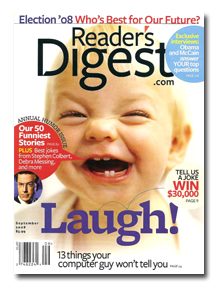 The Reader's Digest Association today said it will reduce the rate base of Reader's Digest from 8 million to 5.5 million, beginning with the February 2010 issue. The magazine also will scale back its frequency from 12 to 10 times per year. Its global circulation will be 14.5 million.
The changes come as part of a "transformation" of Reader's Digest magazine into a multimedia brand, the company said.  RDA expects to roll out several product initiatives, including the creation of a global Web portal, over the next 12 months.
According to Reader's Digest Community president Eva Dillon, RDA "will continue our transformation into an innovative multi-media brand by delivering content to users … through expanded digital and print investments and the development of new mobile, video and multimedia applications."
Dillon said RDA expects to save a "considerable" amount of money on the reduced printing and distribution fees, which it will reallocate into the new multimedia initiatives. No layoffs are associated with the changes, she said.
Peggy Northrop, editor-in-chief of the U.S. edition, was named global editor-in-chief. In her new role, Northrop will be tasked with directing the brand's 50 international editions and overseeing content for all of the magazine's platforms.
RDA will group the magazine, recently redesigned readersdigest.com and all product launches under what it calls a "Reader's Digest Version" umbrella. "There are so many media outlets for consumers to choose from, we want to bring them into the Reader's Digest 'version,'" Dillon said. "Our plan is to create and distribute products through various media platforms with information that is short, easy and concise—meaning it gets to the point. It's really at the heart of what we've done and want to do better."    

A Conservative Shift?
A New York Times report Friday pointed to RDA's recent launch of Purpose Driven Connection—a multimedia partnership with Saddleback Valley Community Church pastor Rick Warren—as a sign that the publisher is moving in a "decidedly conservative direction."
"There is no big shift that we've done or plan to do editorially," Dillon told FOLIO:. "Reader's Digest and Purpose Driven Connection are completely unique and distinct businesses.  
"Reader's Digest has always been about the values of home, family, community, optimism and country," Dillon continued. "We're simply embracing and repackaging what we've always done."
Nominated for the first time in two decades, Reader's Digest in April took home a general excellence award (over 2,000,000 circulation category) in the National Magazine Award competition, beating Martha Stewart Living, Real Simple, National Geographic and Time.
Meet the Author
---