Reader's Digest Considering Name Change

Any suggestions?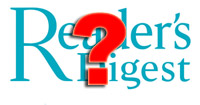 Along with its coverage of the Reader's Digest Association's mega deal with a mega church to produce a magazine and a social networking site RDA calls a "Facebook for Christians," the New York Times reports that RDA CEO Mary Berner is "casting about" for a new name for the company.
We've heard rumblings about this since as early as September. It appears that even Berner—who has been somewhat of a lightning rod since coming over to Pleasantville from Condé Nast—is having a tough time deciding on one.
So, in the spirit of community, I thought it'd be fun—and useful!—to collectively brainstorm new names for Reader's Digest. Here are some suggestions from the FOLIO: staff. Feel free to add yours in the comments section below.
Leader's Digest
Reader's Nast
Everyday, Inc.
The House that Rachael Built
Purpose Driven
Pleasantville Publishing
Escape From Condé Nast
Mary Berner Omnimedia
FDA
Meet the Author
---