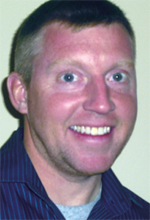 The Reader's Digest Association today announced the acquisition of Haven Home Media, an online vertical network serving the do-it-yourself home and shelter category.
Haven's Home network–which brings together more than 60 Web sites and draws over 15 million unique visitors each month–joins an RDA group that includes The Family Handyman and Fresh Home. RDA's Lifestyle business generated $140.6 million in the fourth quarter of 2010 and $380.2 million since February 2010 (when the company emerged from Chapter 11).
Dan Meehan, founder and CEO of Haven Home Media, will take on the new position of vice president of integrated solutions and digital development within RDA's Lifestyle Communities.
Meehan [pictured] was named to the 2010 Folio: 40 and his background includes running some of the home and real estate sites for Scripps including HGTV.com. Haven Home Media launched with private funds, with Meehan putting in between $50,000 and $100,000 to get started. Revenue was between $1.5 and $2 million in 2009 and was projected to grow 500 percent in the first half of 2010.