Reader's Digest Association Announces Business Realignment

Publisher creates 'U.S. Affinities,' 'Emerging Businesses' divisions.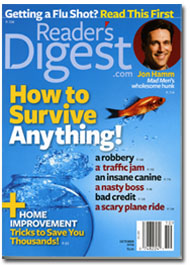 About three weeks after filing for Chapter 11 bankruptcy protection, the Reader's Digest Association has announced a realignment of its U.S. business operations. Suzanne Grimes, president of RDA's Food and Entertaining division, will now serve as president of the newly-created U.S. Affinities division, which will be made up of the Food and Entertaining and Home and Garden groups.
In addition, Alyce Alston, who served as president of the Home and Garden and Health and Wellness groups, was named president of the newly-created Emerging Businesses division, which will be responsible for developing and launching new businesses across the company.
According to RDA president and CEO Mary Berner, the new divisions are designed to "enable us to bring our U.S. affinities closer together under one organization to drive growth and efficiency, as well as enhance collaboration, effectiveness and best practices among the various teams." Going forward, Berner said, a single organization will lead and support RDA's U.S. affinity businesses, including brands like Allrecipes.com, Every Day with Rachael Ray, Taste of Home, Birds & Blooms and the Family Handyman. A single leadership team also will oversee advertising and division-specific marketing programs.
No layoffs were associated with the realignment, an RDA spokesperson told FOLIO:. Eva Dillon, the company said, will continue to serve as president of the Reader's Digest Community group, separate from RDA's new affinity structure.
Neil Wertheimer, who served as editor-in-chief of Home and Garden as well as Health and Wellness, was named vice president and editor-in-chief of Emerging Business and Content Development, reporting to Alston. The Health and Wellness group, the spokesperson said, has not been made into an affinity. The group's health books operation has been renamed Content Development.
RDA's Weekly Reader Publishing Group, which publishes 12 titles, also will report to Alston.
When it filed for bankruptcy protection last month, RDA said it reached an agreement in principle with a majority of its senior secured lenders on terms of a restructuring plan to reduce the company's debt from $2.2 billion to $550 million, which has its senior lenders exchanging a "substantial portion" of the company's $1.6 billion in senior secured debt for equity. The agreement also called for RDA's lender group to provide $150 million in debtor-in-possession financing which would be convertible into exit financing upon emergence from Chapter 11.
The spokesperson said RDA could emerge from bankruptcy "in under four months."
Meet the Author
---