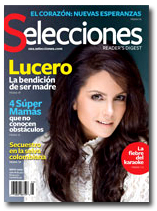 The Reader's Digest Association has closed the U.S. edition of Selecciones magazine.The June issue will be its last.
According to RDA president Eva Dillon, the magazine no longer is a viable long-term business. "Reader's Digest is committed to sustainable, long-term growth, and this move allows us to commit our resources to new opportunities that will have the most potential for successful performance in today's marketplace," she said.
As a result of the closing, the magazine's four full time positions have been eliminated, a spokesperson told FOLIO:. Editor Genevieve Fernandez, who is based in Mexico City, will continue to oversee editorial at other editions in the Americas.
Selecciones saw ad pages fall 11.4 percent during the first quarter, according to Publishers Information Bureau figures. The magazine carried a paid and verified circulation of 375,000.
RDA will continue to publish the 17 international editions of Selecciones, the company said.
Check back to FOLIOmag.com for updates to this story.