RDA Revenues Drop by $82 Million in Q3

$26 million operating loss due primarily to sale of Every Day with Rachael Ray.
The Reader's Digest Association, Inc. had a rough third quarter, at least according to its financial results released Tuesday—revenue decreased $82.3 million to $230.1 million, a decline of 26.3 percent from the same period in 2011.
The results show that there was some improvement, with the losses narrowing by $2.8 million on a normalized basis. The revenue declines, the company says, were primarily due to a lower active customer base on books and home entertainment products, and a reduction in promotional investment across Europe and Asia, among other things.
"During the third quarter, we continued to move ahead aggressively with our plan to transform our business," says the company's president and CEO, Robert Guth, in a prepared statement. "In addition, increased business pressure on certain elements of our business, in particular, our North America Books and Home Entertainment business and in certain European markets, moved us off of our trajectory for the quarter."
While book products were cited by Guth, RDA also pointed to the sale of Every Day with Rachael Ray in October 2011 and declining subscription renewals and circulation on certain magazine titles as a contributing factor to revenue declines.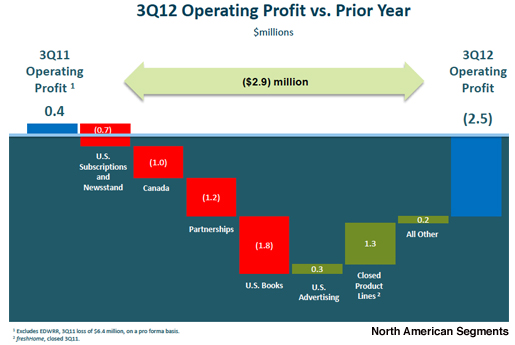 The third quarter operating loss was $100.1 million, reflecting an impairment charge of $85 million. Without impairment charges, operating losses decreased $25.9 million to $15.1 million or 63.2 percent from the same period in 2011. EBITDA for the quarter was negative $8.9 million, compared to negative $6 million during the same period as 2011, which, the company says, "has been adjusted to exclude discontinued operations, as well as the Every Day with Rachael Ray publication."
"We remain very committed to our plan to holistically transform the company," added Guth in a statement. "This quarter we made real progress on all elements of this transformation, particularly in our initiative to license our international businesses. We also continued to make steady strides in our strategy to realign our corporate structure to better fit our business, and proceed to take necessary steps to help change the trajectory in our North American business."
Third quarter revenue in the North American market was $105.5 million, a decline of $28.8 million or 21.5 percent. In Europe, third quarter revenue was at $85.5 million, a decline of $45.5 million or 34.7 percent from the 2011 quarter.
As initially reported by FOLIO: earlier this month, Dawn Zier, president of Reader's Digest's international division, stepped down in early November to become president and CEO of diet and weight loss company Nutrisystem. Her last day at RDA was six days ago. Zier had been at RDA for 20 years and was president of North American consumer marketing before being promoted to president of global consumer marketing in 2008.
For the Asia Pacific and Latin American (APAL) division, third quarter revenue was $44.5 million for this segment, a decline of $12.8 million or 22.3 percent. Third quarter operating profit in the APLA segment was $3 million, a decrease of $0.6 million or 16.7 percent from the 2011 quarter.
These results, which cite lower circulation and advertising on certain magazine titles, comes just days after RDA announced that Source Interlink's Media Source division would now manage the association's circulation newsstand strategy during the group's transition from "print-centric" to "platform-agnostic." 
Stay updated on the latest FOLIO: news, follow us on Facebook & Twitter!
Meet the Author
---