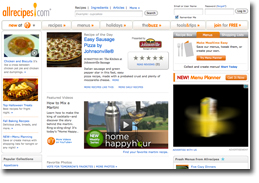 In another step for its "master brand strategy", the Reader's Digest Association is exploring a possible sale of its Allrecipes property. The 14-year-old food site sees 24 million uniques monthly, and already has 9 million downloads of its app offerings. RDA bought the brand in 2006 for an estimated $66 million, under former RDA president/CEO Eric Schrier's tutelage.
According to a company press release, "RDA stated that there can be no assurance that this strategic review process will result in a sale. Morgan Stanley and Evercore Partners are acting as financial advisors to assist the Company with the strategic review process."
This potential sale follows closely in the tracks of RDA's announcement that it was fielding offers for struggling Every Day With Rachael Ray; on the same day, Meredith Corp. made its own announcement it agreed in principle to buy the print and digital assets of the magazine from RDA.
However, RDA president, North America Dan Lagani told FOLIO: at the time, "We've had very good conversations with Meredith. It's a little premature; we're not across the finish line, but I would say conversations have been positive."
Of the EDWRR sale and RDA's master brand focus, Lagani said, "Here is a strategic initiative to focus on RD's own intellectual properties, where we have the freedom to create content experiences across all platforms and then to build the businesses in all the ways that you can from a financial perspective. This includes advertising and sponsorship, but it doesn't really afford the opportunity when you don't own the entirety of the brand."
RDA considers Reader's Digest, Taste of Home and The Family Handyman to be among its core brands, according to newly named president and CEO Robert Guth.
Former EDWRR editor-in-chief Liz Vaccariello has been appointed to the new role of chief content officer and EIC for the Reader's Digest community; in this position, Vaccariello will "…ensure there is a unified creative voice for the Reader's Digest brand across all platforms," according to Lagani. Peggy Northrop, formerly Reader's Digest global editor-in-chief, stepped down to act in an advisory role as an international editor-at-large with the company.
This streamlining may or may not be in preparation for a potential sale: in July, The Wall Street Journal reported RDA was on the block with a price tag of $1 billion. When asked about the possibility of a pending sale, Lagani said, "I'm not going to comment on speculation that's been out in the press. Today's announcements were the kind of announcements that you make when you have a clarity as to what the business can be and should be."