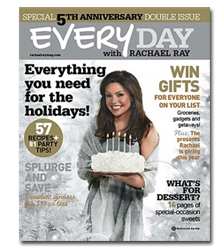 The Reader's Digest Association has named Liz Vaccariello editor-in-chief of Every Day with Rachael Ray magazine, which it publishes. Her appointment is effective November 15.
Vaccariello most recently served as senior vice president and editor-in-chief of Rodale's Prevention magazine, a role she had since 2006. At Every Day with Rachael Ray, she replaces ex-top editor Silvana Nardone who, along with creative director Tracy Everding, left the company this summer.
Even before accepting the job at Every Day with Rachael Ray, Vaccariello has appeared regularly on Ray's daytime talk show. According to RDA's Lifestyle Communities president Suzanne Grimes, Vaccariello is the "perfect" editor-in-chief to "take us to the next level. She's a creative collaborator and an unstoppable force and we're thrilled to welcome her to the family."
Through the first nine months, Everyday with Rachael Ray saw ad pages grow 10.4 percent to 509.94, according to Publishers Information Bureau figures.