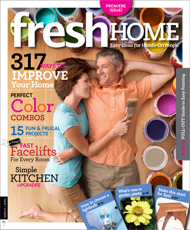 Even as the pile of folded print magazines continues to grow, the Reader's Digest Association is hedging its bets against a precipitous decline in ad revenue by launching two magazines in less than two months. The latest is Fresh Home, a quarterly home improvement title, which is set to hit newsstands February 27.
With an initial print run of 300,000 and a $4.99 cover price, Fresh Home enters the ailing shelter magazine market targeting readers who are looking for affordable, do-it-yourself home decorating and designing information. Repurposing editorial from RDA's Australian title The Family Handyman, and featuring advertisers like IKEA and Benjamin Moore, RDA says the magazine is "in tune" with budget-conscious consumers.
"Fresh Home is a new take on the traditional shelter magazine because it approaches readers from a lifestyle standpoint, choosing to focus on value and simplicity while remaining in-tune with the consumer living in today's economy," Alyce Alston, president of RDA's Home & Garden and Health & Wellness groups, told FOLIO:.
As a whole, the shelter category has sustained several recent, major hits. Last month, Condé Nast said it plans to pull the plug on Domino and dominomag.com effective with the March issue, and Meredith closed Country Home. Late last year, Martha Stewart Living Omnimedia shuttered fellow shelter magazine Blueprint.
But RDA seems committed to the printed word. Late last month, in a previously announced partnership with Saddleback Valley Community Church pastor Rick Warren, the company launched the Purpose Driven Connection, a quarterly magazine as well as a multimedia platform including DVDs, downloadable discussion guides and a social networking Web site.
RDA also is expected to launch Best You, a title modeled after Best Health, which launched in Canada last year.