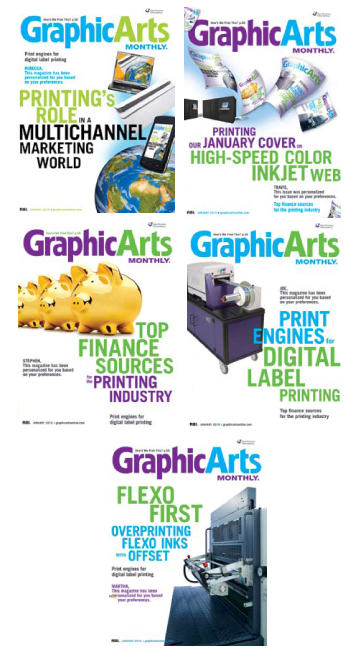 For its January issue, Reed Business Information's Graphic Arts Monthly partnered with InfoPrint Solutions Company to create and publish five covers tailored specifically to its subscribers' preferences.
To accomplish this, GAM worked with InfoPrint to survey its 70,000 subscribers to determine which of the issue's five feature stories was most relevant to them. For the roughly 4,000 usable respondents, GAM developed five personalized covers to match their interests. The remaining subscribers were divided into two groups: about 30,000 received issues with covers picked by editor-in-chief Bill Esler (based on job title, etc.) and the other 30,000 or so received a "control" cover based on its "Printing's Role in a Multichannel Marketing World" feature.
"We picked a range of subjects we thought would go across the spectrum of our readers," Esler told FOLIO:. Other editorial features included "Top Finance Sources for the Printing Industry," "Print Engines for Digital Label Printing," and a feature story about the technology used to print the January issue. Esler said the project "will demonstrate the importance of content relevancy for publishers, and highlight its role in keeping an attracting subscribers."
GAM laid out the six covers (including the control cover) in InDesign and sent PDF and native files to InfoPrint. Included was a spread sheet with position and color specs for each variable component, such as images and variable headlines.
From there, InfoPrint assembled the covers—including advertisements on covers two, three and four—and printed them using its own inkjet technology. The issues' pages were printed by GAM's usual printer (Fry Communications) and later combined with the special covers.
The ads featured personalized URLs with the recipient's name in the referral URL. "The business proposition for publishing has changed dramatically," said Esler. "Especially in the b-to-b world, we have to provide metrics that demonstrate that people have read and responded to an ad. Lead generation also is very important today. That's where engagement mechanics like quick response codes or personal URLs capture the names of people who are interested in the advertising or editorial that is covered."
InfoPrint's Precision Marketing service uses data collected either from a database or a survey to "uncover customer preferences," then helps create messaging and content of any type around those preferences and determines the best delivery channel for it, said Sandra Zoratti, the company's vice president of global solutions marketing. InfoPrint, which was created in June 2007, is a joint venture between Ricoh and IBM's Printing Systems division.
InfoPrint targets publishers of all sizes and markets, as well as companies outside publishing. Zoratti said prices vary greatly project-by-project, but that the cost of its data analytics service, if based on an existing database, can range from $10,000 to $100,000.
RBI isn't the first to test the customizable magazine waters. Last year, Time Inc. conducted a free five-issue, 10-week customizable magazine experiment called Mine. In July, National Geographic partnered with e-commerce solutions provider Consolidated Graphics to allow readers to upload any high-resolution photo of theirs online and have it printed on the cover of its Your Shot issue. And, this fall, Doubledown Media co-founder Magnus Greaves said he was getting ready to launch MYMAG, a magazine project consisting of single issues created by celebrity "tastemakers" for distribution to their fan base.