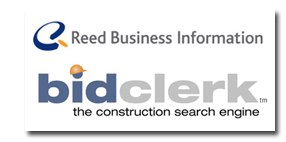 The proverbial table has been turned for Reed Business Information. Following a suit its Reed Construction Data unit brought against rival McGraw-Hill Construction Dodge, the publisher is now facing a lawsuit brought against it by construction information service provider BidClerk Inc.
According to the complaint, filed in Minnesota U.S. District Court, BidClerk alleges that a series of "denial of services" attacks were directed against its online system, flooding it with "millions of page views." It also alleges that a "click fraud'" scheme aimed at BidClerk's paid advertisements generated "hundreds of thousands" of invalid clicks and impressions on its ads.
BidClerk claims the attacks originated from an IP address belonging to RBI. Meanwhile, RBI denies BidClerk's allegations that it, or any of its employees, "intentionally engaged in internet activity designed to harm BidClerk." It says it will "vigorously" defend itself against these claims.
"RBI strives to operate with the utmost integrity in the conduct of its business, and accordingly takes allegations such as this very seriously," the publisher says in a statement e-mailed to FOLIO:. "After being contacted by BidClerk, RBI took immediate action to thoroughly investigate the allegations, including by hiring an independent technical consulting company to conduct a forensic investigation of RBI's computer systems. Although the investigation is ongoing, the consultant's preliminary findings indicate that the activity alleged by BidClerk was not the result of any intentional actions by RBI or any of its employees.  RBI has sought the cooperation of BidClerk to complete its investigation but, to date, BidClerk has not agreed to cooperate in the investigation."
RBI says that as a result of the investigation's preliminary findings, RBI has not been able to rule out the possibility that the alleged activity was the result of "malicious activity by external sources."  Should that be the case, RBI says it "will not hesitate to pursue all available legal recourse."
BidClerk's complaint seeks damages, injunctive relief and attorney's fees relating to the click fraud and denial of service attacks.
Last October, RBI's Reed Construction Data unit filed suit in federal court against McGraw-Hill Construction Dodge, charging corporate espionage, among other things. Earlier this month, a New York U.S. District Court judge ruled in favor of McGraw-Hill to dismiss three of the 11 counts in the case.
RBI CEO Out
Keith Jones, the CEO of RBI in the U.S. and U.K. reportedly announced that he will retire from his post at the end of the year.
Jones will be replaced by Mark Kelsey, who oversees RBI in the U.K. Jones became chief executive in 2008.