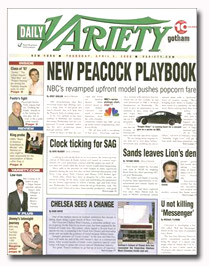 Reed Business Information eliminated 41 jobs Tuesday, according to a letter obtained by FOLIO:.
The layoffs—which the publisher says are part of a company-wide restructuring effort—are across several of RBI's publications and business units, including Broadcasting & Cable, Publishers Weekly and Variety.com. The positions that were eliminated include several editors, sales representatives and online staffers.
In the letter, RBI indicated that more layoffs are possible.
Between January 1 and June 2 of this year—prior to the latest cuts—an RBI spokesperson says 217 employees were either laid off or left on their own accord. During that time, the company hired 218 people. The spokesperson declined to comment further about the reorganization.
In February, RBI's parent company, London-based Reed Elsevier, announced its plans to divest the b-to-b division. Early estimates put the potential sale at about $2 billion.
Shortly after the announcement, RBI CEO Tad Smith, in an internal memo, tried to reassure RBI staffers that their jobs would be intact—including his own. "I am committed to leading our business as your CEO during the sale process and thereafter," Smith wrote in an internal memo. "In the meantime, business will continue as usual and everyone's jobs, benefits and pay will be unaffected."
"Trimming costs in advance of the sale is the right way to go to capture additional proceeds in the sale," DeSilva + Phillips managing partner Reed Phillips tells FOLIO:. "Otherwise, the buyer will make those cuts but not pay the seller for the increased value that those savings create as part of the sale."
Since the announcement, rumors have circulated about who RBI's potential suitors could be, and whether Reed would sell RBI in pieces—the most recent that Reed could sell the U.S. division of RBI separate from the European group.
To help assure that RBI is in fact sold in one piece, Reed Elsevier is said to be organizing a group of banks to lend nearly $1.5 billion to the eventual buyer.
RELATED PDF: RBI's Letter