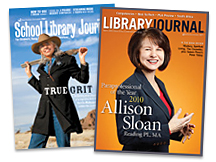 Reed Business Information has taken another step in the divestment of its U.S.-based magazines. The publisher today said it sold Library Journal and School Library Journal to Plain City, Ohio-based Media Source Inc.
The acquisition includes the print and online properties associated with the two brands. Financial terms of the deal were not disclosed.
According to Randall Asmo, CEO of Media Source, Library Journal and School Library Journal are "valuable magazines that deserve a corporate home focused on libraries … Our goal is to build upon those strengths to provide a vital and comprehensive service to the librarian community."
UPDATE: Media Source marketing vice president Andrew Thorne told FOLIO: the company plans to continue both magazines in print. "Circulation is always a tough challenge, but we don't have any plans to cut the circ levels. In fact, we'd like to reverse the slight decline in circulation that these titles have shown over the past couple years."
Thorne added: "Overall, Media Source is looking for growth from these titles and from
our other companies in the library market. Bringing SLJ and LJ together with sister companies Junior Library Guild and The Horn Book creates some exciting opportunities for both librarians and the advertising community."
Media Source is the parent company of the Junior Library Guild and The Horn Book, Inc. Media investment bankers the Jordan, Edmiston Group represented RBI in the sale.
In the announcement, Asmo said Library Journal's and School Library Journal's editorial and advertising teams will maintain their operations in New York City. It was not immediately clear if any layoffs are associated with the deal or if any changes (frequencies, circulations, etc.) are planned for the magazines. Asmo did not immediately return an e-mail seeking comment.
This is the third announced divestiture RBI has made since announcing in July that it put the majority of its U.S.-based trade magazines back on the block. Last month, it sold the global assets of RBI's Electronic Design News (EDN), Design News, Test & Measurement World and Packaging Digest to Los Angeles-based Canon Communications. In December, Wicks Group-owned NewBay Media bought RBI's Broadcasting & Cable, Multichannel News and This Week in Consumer Electronics (TWICE).
In January, RBI ceased publishing Video Business, Manufacturing Business Technology and Industrial Distribution.