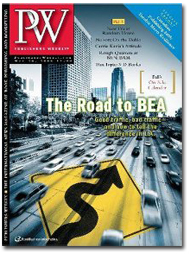 Publishers Weekly has become the latest magazine property sold off by b-to-b publishing giant Reed Business Information. The magazine, along with its accompanying Web site and Publishers Weekly Show Daily, were acquired by PWxyz LLC, a newly-organized company headed by president George W. Slowick Jr., who served as the magazine's publisher in the early 1990s.
PWxyz plans to keep all of Publishers Weekly staff, including publisher Cevin Bryerman and co-editors Jim Milliot and Michael Coffey. The magazine will remain headquartered in New York City.
According to Slowick, the Publishers Weekly brand moving forward will expand to have a "wider electronic and international footprint." "I am very excited to be back at Publishers Weekly as e-books hit their tipping point, workable translations become automated and the Google book settlement is completed," he said in a statement. "Publishers Weekly will benefit from a lithe operation that can properly report on and interpret the implications of this incredible evolution of the book business."
RBI was represented by the Jordan, Edmiston Group in the deal. Financial terms were not disclosed.
Publishers Weekly joins a growing list of magazine properties sold off by RBI. In July 2009, RBI announced that it put the majority of its U.S.-based trade magazines back on the block. Last month, it sold Interior Design and the Furniture Today group—which is made up of Furniture Today, Gifts & Decorative Accessories, Home Textiles Today, Casual Living, Home Accents Today, Kids Today and Playthings—to Sandow Media. Among its other deals, RBI also sold Electronic Design News, Design News, Test & Measurement World and Packaging Digest to Los Angeles-based Canon Communications in February.