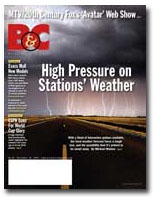 About four months after putting the majority of its U.S.-based trade magazines back on the block, Reed Business Information has sold three titles to Wicks Group-owned NewBay Media.
The deal includes Broadcasting & Cable, Multichannel News and This Week in Consumer Electronics (TWICE). Financial terms were not disclosed.
According to NewBay CEO Steve Palm, the acquisition "adds significant depth and breadth to its existing portfolio of broadcast properties," which include TV Technology and Television Broadcast, as well as consumer electronic properties like Residential Systems.
Under NewBay, the three magazines will continue to be published in print and will maintain their current frequencies and circulations, Palm told FOLIO:. "As these brands complement our existing portfolio, we are not planning any significant changes to their current operations," he said.
According to the RBI Web site, Broadcasting & Cable publishes 51 times per year and carries a 22,120 circulation. Multichannel News, which also publishes 51 times annually, carries a circulation of 17,116. TWICE carries a 19,010 circ. and publishes 26 times per year.
RBI and its London-based parent Reed Elsevier were represented by investment bankers The Jordan, Edmiston Group in the deal.
In July, Reed Elsevier announced plans to divest nearly all of the magazines published under the U.S. division of RBI. Reed said it will retain its Reed Construction Data, RSMeans, Variety, MarketCast, LA411 and BuyerZone properties. The company put RBI on the block in February 2008.
Discussions are under way for a number of RBI's remaining titles but no deals have been finalized, sources tell FOLIO:.
Meanwhile, fellow trade publisher Nielsen Business Media is reportedly working on a sale of a number of its titles—including The Hollywood Reporter, Adweek, Brandweek and Mediaweek—to a consortium of buyers including Washington D.C.-based The Hill owner Jim Finkelstein and Lachlan Murdoch.