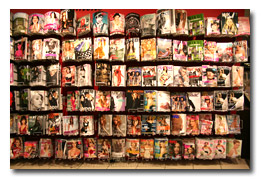 Only 8 percent of magazines making a rate base claim missed their
promise on ABC audits released in the third quarter of 2008, according to
Capell's Circulation Report, a large improvement compared to
16 percent in 2007 and 10 percent for the first two quarters of this year.
The
report also showed that nearly a quarter (a new high) of magazines issuing their annual audit this quarter included free
(non-paid) circulation in their rate base claim. Those titles include Food
& Wine, Golf, Parents and Mother Jones. Titles showing more than 10
percent of their subscription files with verified circ during the third quarter
were Allure, Essence, Golf, Marie Claire, Mother Jones, National
Geographic Adventure and National Geographic Traveler.
Magazines that delivered the biggest bonuses over their rate base include AARP,
The Magazine (+1.7 million), Time (+172,000), The Economist (+99,000),
GQ (+74,000), The Week (+65,000), Wired (+65,000), Street Thunder
(+34,000), Discovery Girls (+30,000), and Sound & Vision (+25,000).