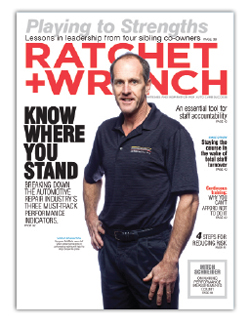 When there's a hole in your marketplace, you fill it. That's the attitude of Jay DeWitt, president of 10 Missions Media, the company that introduced the 100,000-circulation title Ratchet+Wrench in July 2012.
"Overall, we just felt that we could offer the industry a far better and more valuable magazine than what was currently in the marketplace," says DeWitt. "The autocare center audience, which Ratchet+Wrench serves, is very similar to the collision repair industry in that the owners and operators need business-building information. We're the only publication that is highly focused on strategies and inspiration to help shops succeed."
Launching this new title did not happen overnight. In the late summer of 2011 DeWitt and his team began working on a game plan, getting the brand staffed up six months before the premier issue hit.
The company hired an additional writer, four sales people, a service representative and a design intern. In February 2012 a new staff writer was hired and began making connections in the industry, though the brand did also rely heavily on existing staff to gain some economies of scale. From there the team began creating content and got three months of content done before the first issue went to print in July.
"We're a very brand-centric organization so we wanted to build the brand and bring awareness to it," says DeWitt. "We focused on our pool of potential advertisers and marketed aggressively over several months to get them 'warm' to the brand. Our sales staff then began their work, which was made easier by having potential advertisers familiar with the brand due to our marketing efforts. We also focused heavily on the almost 500 advertisers in [our flagship title] FenderBender. We knew that if we could convert 50-75 percent of them we'd be in good shape. We achieved that."
Outside of the additional payroll, says DeWitt, the marketing efforts to get the magazine launched was around $20,000, which was primarily for postage and marketing forms for advertising programs. Other office-related capital expenditures, like furniture and equipment, were an additional $35,000-$40,000.
In all, the first issue of Ratchet+Wrench in July 2012 included 200 ad pages and over 400 advertisers. This year, the company plans to roll out new digital offerings, move their website to HTML5, increase daily news production and launch a daily news letter.
"The audience has validated that they were truly in need of a publication that actually helps them work 'on' their businesses and not 'in' them," he says. "We've received feedback from hundreds of readers stating that this is by far the best publication they've ever seen that is specifically serving their needs. Many of these operators have been around the industry for 20 or 30 years, so it is rewarding for all of us at 10 Missions Media to know that we are making a difference."
PROGRESS SO FAR…
In July 2012 Ratchet+Wrench launched with a circulation of 100,000.  Its first-ever issue included 200 ad pages and over 400 advertisers. Its parent company 10 Missions Media spent about $55,000 in launch costs. In 2013 the company plans to launch an associated daily newsletter and rebuild RatchetAndWrench.com in HTML5.