Randall-Reilly to Sell Shuttered Modern Woodworking

Group who bought IEN picks up wood market title.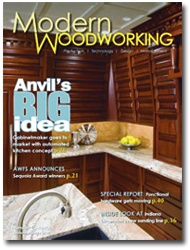 Trade magazine Modern Woodworking will have a second life.
Less than a month after Randall-Reilly Publishing said it would cease publishing the 23-year-old title, the company has agreed to sell it to TCC Media. Financial terms of the deal were not disclosed.
TCC Media is the group that purchased the licensing rights this summer to Industrial Equipment News, the 76-year-old title that was folded by Thomas Publishing in March. The group is made up of former IEN staffers.
According to Todd Baker, a TCC Media Group managing partner, the addition of Modern Woodworking is a valuable addition to its portfolio of industrial media products. "We saw a large upside in online opportunities for Modern Woodworking and we plan on moving quickly to develope them," Baker told FOLIO:. "As we did with IEN, we will continue to invest in circulation and editorial to provide a first rate print and online experience for both the readers and advertisers of this publication."
TCC plans to relaunch the print edition of Modern Woodworking with the February issue. ModernWoodworking.com will resume publishing immediately.
As part of the deal, Randall-Reilly will provide TCC with equipment financing data it collects through its Equipment Data Associates division, the company said. Randall-Reilly shuttered Modern Woodworking earlier this month in an effort to focus on the publisher's core products, including magazines serving the trucking and construction markets.
Modern Woodworking carried a circulation of 35,200. TCC Media said it plans to name a new editorial director, publisher and sales staff in the coming weeks. The magazine's former editor, Jeff Crissey, was named editor of Randall-Reilly's Commercial Carrier Journal magazine. Chip Wisdom, its former publisher, retired.
Meet the Author
---