Rafat Ali's ContentNext Sold to U.K.'s Guardian

Founder sells six-year-old company, but will stay on as publisher.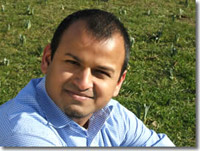 ContentNext Media, Inc., Santa Monica, California-based publisher of digital media news site paidContent.org, announced today that it has been sold to Guardian News and Media, the U.K.-based publisher of the Guardian and Observer newspapers.
Terms of the deal were not disclosed.
Rafat Ali, founder, publisher and editor of ContentNext, along with recently-named CEO Nathan Richardson, will continue to run the company as a standalone business. In an interview with FOLIO:, Ali explained that he was not "shopping the company around." Instead, he was contacted unsolicited by GNM within the last few months. The sale process, he says, took about three weeks.
"A couple of the key considerations were that we would continue to operate as an independent business unit and, of course, the journalistic integrity of the buyer," says Ali. "Guardian Media News is expanding into other countries, and is well respected in terms of its reputation."
Ali founded ContentNext with the launch of padiContent in 2002. "I did not start this company six years ago to flip it," Ali says. "We're in this for the long term."
ContentNext's products include paidContent.org and paidContent:UK, mobile-focused mocoNews.net, and contentSutra.com, covering India's digital content market. The company also produces a number of events.
"This is a great deal for Rafat and the shareholders of ContentNext Media," DeSilva + Phillips managing partner Reed Phillips wrote in an e-mail to FOLIO:. "It certainly makes sense that The Guardian was the buyer, for two reasons. First, they are looking to expand into the U.S. and Rafat will be able to introduce them to just about anyone in media and the Internet. Secondly, the value of the pound versus the dollar makes the acquisition look cheaper to the Guardian than it would to others."
The move is also seen as part of Guardian News & Media's continued expansion outside of the U.K. The company recently launched Guardian America and forged a new commercial relationship with Reuters to sell advertising in the U.S. GNM also owns a b-to-b division, Guardian Professional.
ContentNext will become part of that group.
Meet the Author
---