Rafat Ali Leaving ContentNext, paidContent

Next move will likely be another startup, in 'a larger media space.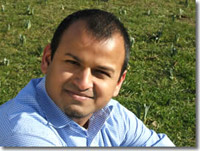 Nearly two years after selling the company to U.K.-based Guardian News, Rafat Ali Friday said he is stepping down as founder and editor of ContentNext Media Inc., publisher of digital media news site paidContent.org.
In a note posted to the paidContent site, Ali—who founded the company eight years ago—says his departure will be effective in early July. He will stay on as an advisor through the end of the year.
"For most of you who know me, this isn't coming as a huge surprise," Ali [pictured] writes. "I have been wrestling with this for months now, and the two-year mark under the Guardian and the eight-year mark since I lunched the first site, seems appropriate enough as a closure point."
Ali, a former managing editor of Silicon Alley Reporter and reporter on Inside.com, did not immediately return a request seeking comment. Managing editor Ernie Sander is expected to take on added responsibilities in Ali's absence.
After launching the company with paidContent in 2002, Ali added a number of events as well as paidContent:UK, mobile-focused mocoNews.net, and contentSutra.com, which covers India's digital content market. Guardian reportedly paid about $6 million for ContentNext.
"I am leaving the company while the editorial is still at the peak of its reputation, even though we are half the teams we used to be," Ali writes.
In the note, Ali says his future beyond ContentNext is unclear. "Very likely it will be another startup, in a larger media and marketing space."
Meet the Author
---