Radar's Spencer for Hire

Why an Ellie-nominated magazine bothers with Hills blog-baiting stunts.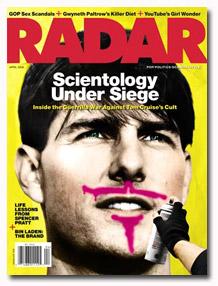 For awhile, two stories in Radar's April issue were contending for the coveted title of Most Buzzed About. One was John Cook's no-holds-barred examination of Scientology's recent struggles with anonymous hackers, outspoken ex-members and leaked internal videos featuring Tom Cruise's steely-eyed reveries. The other was the 350-word debut of a new advice column, "Yo Spencer!," in which Hills heel Spencer Pratt helps readers grapple with their personal quandaries.
On the surface, the pieces—a hard-hitting investigative feature and a cheap blog-baiting stunt—couldn't be more different. But they spring from the same basic impulse. In both cases, the aim was to go where other publications generally fear to tread (I don't know what's worse, being on the Sea Org's bad side, or on Lauren Conrad's). As a new magazine in a crowded marketplace, Radar has no real choice but to take risks whenever possible. Otherwise we duplicate what's already on the newsstand, in which case, why bother? We've published nine issues under our new owners, but there are still plenty of potential readers out there (millions, by my count) who have never heard of us. The cheapest, most effective—and frankly the most fun—way to reach them is by assigning and running stories that foment these little media frenzies we all love so much.
At the moment, it looks like Spencer Pratt is pulling into the lead in that regard. Even the Associated Press covered his foray into magazine journalism, which turns out to be, to my mind, one of the more enjoyably frank advice columns available. Nevertheless, the idea has been a bit controversial around the Radar offices. Some colleagues wondered if Spencer could really write. (He can.) Others decried the idea of soliciting advice from a guy most of America is convinced is nothing but a Machiavellian hustler. (Who better?) And then there were the hardcore haters, who crinkle their noses at the merest mention of the new addition to our writing stable.
Of course, most of this last bunch are card-carrying members of Team Lauren, still fuming over Heidi's "betrayal" of their doormat diva. To them I can only point out that we put their Hollywood heroine on our March cover and declared her the most influential fashionista of the moment. After all, we always strive for balance.
Meet the Author
---