Radar Redesigns, Plans Ratebase Hike

On heels of staff shake-up, magazine retools look.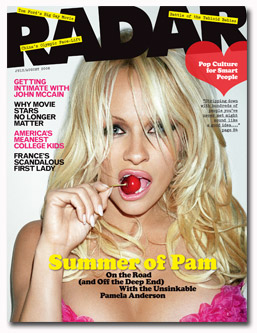 Radar is set to unveil a high-profile redesign this month.
The magazine, now in its third iteration, spent four months working with Pentagram's Luke Hayman, one of the industry's renowned designers, on the new look. Editor Maer Roshan also hired celebrity photographer Terry Richardson to shoot Pamela Anderson for the July/August issue.
Radar also announced plans to increase its rate base to 225,000 in 2009. The magazine increased its rate base from 150,000 to 200,000 this year, and is in the process of completing its first ABC Audit.
The redesign follows the departure of a number of high-level staffers. Deputy editor Christopher Tennant, senior editor Tyler Gray; managing editor Leigh Ann Boutwell; president, Fred Poust; finance director Dwight Holovach and Web site general manager Michael Small have all left the magazine in recent weeks. (Roshan downplayed the exodus, telling the New York Observer "the timing is unfortunate, but that's the nature of the business … Everything is more than O.K."
In May, Radar was nominated for a National Magazine Award for general excellence.
Meet the Author
---