Rachael Ray Goes (Dark) Green

Converts to 85 percent recycled paper.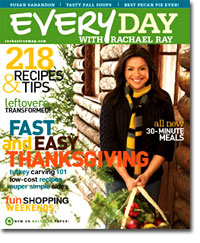 As I have been known to criticize magazine publishers who do little more than lip service to being "green" (see: 'Green' Issues Fail to Convert Magazines to Recycled Paper) it's nice to see a major magazine going beyond the "green issue" rhetoric and actually committing to something that will have an immediate impact. Starting next month, Everyday with Rachael Ray, whose ad revenue skyrocketed some 500 percent this year, will print its issues on 85 percent recycled paper. Additionally, the Reader's Digest-owned magazine is switching mills to one closer to its printer. The explanation from RD:
"The new mill (outside of Chicago) is 160 miles from the printer (Quad, in Lomira, Wisconsin) compared with the old mill that was 1,060 miles away—that's a savings of 900 miles one way. So that reduces emissions. Contrast that with some magazine papers that are trucked across the country or imported from Europe. Also, the mill is working with the printer on a closed loop system, so when they deliver the "Rachael Ray" paper the same truck would then be loaded up with the printed waste and shipped back to the mill. The press waste from the printing of Rachael Ray will go back into the actual paper being produced for a future issue. Makes sense, but understand that this is not the typical process in the industry."
Make no mistake: swapping paper mills is not cheap. But I'd bet the goodwill associated with this move—if Ms. Ray follows through on her promise—will generate additional long-term revenue to offset the upfront costs.
(Or, at the very least, offset the damage done by those Dunkin Donuts commercials.)
Meet the Author
---