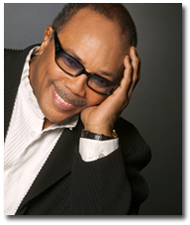 Yesterday, the media lit up with news that Vibe, the R&B and hip hop publication, had abruptly shut its doors.
Meanwhile, over at EbonyJet.com, Adrienne Samuels Gibbs reports that Quincy Jones [pictured], a distinguished jazz and pop music producer, artist, and Vibe founder, wants the magazine back. "I'm trying to buy the magazine back now," he told EbonyJet.com.
And it appears he's not too pleased with the way the Wicks Group, a New York-based private equity firm that bought the magazine in 2006, handled the brand. "They just messed my magazine all up, but I'm going to get it back."
Nor is he happy with the state of print: "I'm' a take it online because print and all that stuff is over."
And while magazines from all markets are feeling the same pain, executives attached to the Vibe brand point out that the magazine's demise is particularly painful for ethnic media. "Unfortunately, you'll probably see other ethnic publications with similar fates in this economic environment," said former Vibe president Kenard Gibbs to Samuels Gibbs.
While we were compiling FOLIO:'s report, Len Burnett, who helped launch the magazine and went on to become CEO of Uptown magazine, told us it's a "black eye" for urban media, and he worries how the famously navel-gazing media world will interpret the shut-down. "It's unfortunate, obviously for the magazine and the employees, but also for the urban media space," he said. "A lot of agencies and clients look at it as a reflection of the overall business. Whether we're competitors or not, we're all fighting to keep the sense of urgency top of mind in the clients who, more often than not, don't recognize the diversity of media or the power of it."
Burnett continued, adding that Vibe was a launching ground for African American publishing execs. "There are a lot of African American media executives that came through the doors of Vibe, they've gone on to do tremendous things. So when you lose a magazine like Vibe, it's tough for African Americans to break into the business when there's not a vehicle that's speaking to them. It leaves a big void in the space."