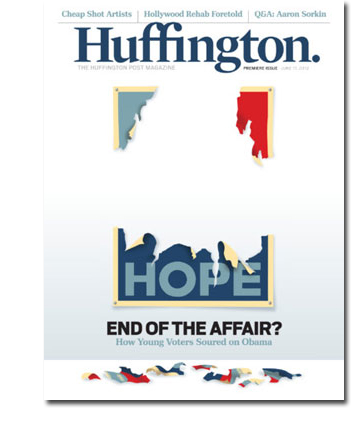 Did you see the new Apple Newsstand magazine called Huffington.? Arianna (I don't know her but that is how she signed the introductory editor's letter so I guess we are on a first name basis) tells us that "Huffington's content will emphasize the rich—and richly rewarding—interactions that come from uninterrupted time spent in the company of creative minds." Oh, dear. That grand statement comes after a 2-page ad for Prius V that, because as in true print magazine format, Huffington. must be read vertically (no turning of your iPad, please), we can't read the copy that goes across the gutter. Follow me? That's because there is no gutter on an app that can't be turned.
Anyway, it is really pretty. There are great photos and some snappy graphics to highlight data and charts. But then it has these annoying little headlines that say, "Enter," which, because I assume that it is beckoning me to do so I push and push and push and all that happens is I get the table of contents (again and again and again). And then there are the similar "Voices," where I keep thinking I'll find audio (love my New Yorker app issues that have poets reading their works). Nope, no voices here. There is some clever use of reader comments and a good article or two including the cover piece called, "Obama's perilous relationship with young voters."  
I guess the ad snafu aside, I am not appalled to be spending yet another 20 bucks for an annual subscription to something. But what is this something? Who is it for? I can't find that demo that should be so evident in a magazine.
And why in a world where legacy publishers are trying to find life after print would a successful digital-first entity imitate print in the most sophisticated digital medium, the tablet? What am I missing? Are they going to sell a ton of print-like ads (note to sales team: 86 the spreads from the rate card)? Have they modeled that one percent of their supposed 80 million unique users per month will spend $20 per year? That would be a $16 million revenue stream. Hmmm. Or is this just one of those, "I did it because I could?"
Warren Bimblick is senior vice president, strategy and business development, at Penton Media. Follow him on Twitter @wbimblick.