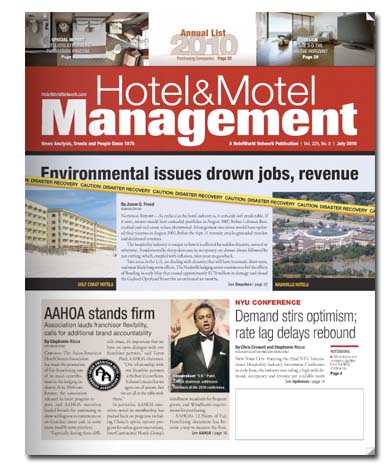 About two months after moving forward with a new management team for Hotel & Motel Management magazine, Questex Media is renaming the magazine Hotel Management, effective next January.
In addition to the name change, the trade magazine is undergoing a redesign and is shifting its editorial focus to technology, development and trends/statistics. The magazine will maintain its 15x annual frequency, Questex says.
"The hotel industry has changed significantly this century, especially since the 'Great Recession'," Stacy Silver, Hotel Management's executive director, says in a statement announcing the changes. "Our new format and editorial emphasis will reflect those changes and look more toward the future on how the industry can invest in, own and operate hotels to achieve higher returns. As part of this transformation … we are 'reinventing' the way that we communicate with our audience and have refined our focus on the topics that matter most to them while analyzing the events that shape the future of our industry."
Back in August, Questex put in place a new management team for Hotel Management that included the promotion of Silver from executive director of digital media and executive director of events. Additionally, John McMahon rejoined the team as vice president and group publisher and Travel Group vice president and editorial director Ruthanne Terrero took on the added responsibility of overseeing content and editorial functions at Hotel Management and the entire HotelWorld Network, which includes Hotel Design Magazine and HotelWorldNetwork.com.
As a result, the magazine's previous editorial director and publisher positions were eliminated "due to redundancy."