Questex Media Buys Travel Conference Ataway Exchange

Deal includes consulting services partnership with the seller, Vantage Strategy.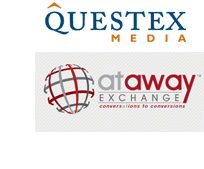 Questex Media, a b-to-b media company serving multiple market verticals, has acquired Ataway Exchange, a community network and conference targeting marketing and tech executives in the travel industry.
Ataway Exchange was started last year by consulting firm Vantage Strategy to help travel industry executives decipher and navigate digital and social media trends in the travel market. The brand held its first conference this year in May in Orlando, Florida, attracting approximately 200 attendees.
As part of the deal, Questex and Vantage will partner to offer digital consulting services.
Questex will fold Ataway into its Hospitality and Travel group, terms of the deal were not released. "With the access to our content and marketing assets that they'll gain and our event management resources, we're confident that we can further expand the brand to serve the industry on a global basis," says John McMahon, executive vice president of the Questex Hospitality and Travel group, in a statement.
Update: According to Questex CEO Kerry Gumas, there's more to Ataway than its conference. Questex will begin production of a destination website featuring free news content on technology impacting the travel and hospitality market. Behind that, and this is where the Questex/Vantage partnership comes into play, will be paid content—market analysis, research and best practices content.
Gumas adds that Questex will extend Ataway's technology focus across the markets in the Hospitality and Travel group—from luxury to leisure and corporate travel.    
In early May, Questex sold its eight brands under the Industry and Specialty group in a pair of deals that transitioned six in a management buyout and two to RISI, an organization that tracks the forest product market.
Meet the Author
---