Que ProReader Shipment Delayed

Original April ship timeframe pushed to summer.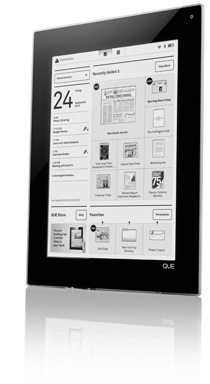 Customers who've ordered a Que ProReader from Plastic Logic are getting a disappointing e-mail from CEO Richard Archuleta. Shipments are being delayed until "this summer." At CES in January, Plastic Logic originally pegged a ship date of mid-April.
This, of course, is not an uncommon experience in the device world, but the e-reader and tablet market has ramped up to hyper-competitive levels. PaidContent had news of the delay on its site earlier today, the same day Apple is taking pre-orders for its iPad.
The customer e-mail that was forwarded to FOLIO: was dated yesterday, which is when customers were first notified, a Plastic Logic spokesperson said.
The spokesperson declined to provide any more detail beyond what was said in the the e-mail—that the delay is necessary to "fine-tune the features and enhance the overall product experience."
Specifics beyond a summer ship date were unavailable as well. Plastic Logic will contact customers again "within the next month," said the spokesperson.
While Plastic Logic is positioning its reader for the business user, the field is nevertheless getting crowded—fast. In addition to being available via its own Web site, the Que will also be sold in Barnes & Noble, alongside the mega-bookseller's nook e-reader, which itself is a direct shot at Amazon's Kindle (the Que is also benefitting from a Barnes & Noble content partnership). Sony has its e-Reader, the iPad is scheduled to ship in April, and Dell, HP and Microsoft are said to be releasing tablets as well.
And let's not forget Hearst's Skiff reader will be available this year, and Next Issue Media, a consortium of five publishers is getting ready to announce its consumer-facing identity while developing its own content platform, storefront and "related technology."
Here's Archuleta's e-mail in full:
From: Richard Archuleta
Subject: QUE proReader Shipping Update
Date: March 11, 2010
Dear [REDACTED],
Thank you for being one of the first customers to order a QUE proReader from Plastic Logic. We appreciate your business.
Today, I wanted to personally inform you that we are postponing the first QUE proReader shipments until this Summer in order to fine-tune the features and enhance the overall product experience.
Within the next month we will send you an email with more details about your order. If you also ordered accessories for your QUE proReader, we plan to ship them at the same time as your QUE proReader.
I can imagine that you want to get your QUE proReader as soon as possible. We are sorry for the delay. For your inconvenience, the shipping charges will be on us.
Please note that we will not charge your credit card until your order is ready to ship.
If you have any questions, please do not hesitate to email us at QUEhelp@PlasticLogic.com
Once again, thank you for being one of our first QUE proReader customers.
Best regards,
Richard Archuleta
CEO
Plastic Logic
Meet the Author
---