Quartz

New Atlantic Media venture is exploring the limits of mobile.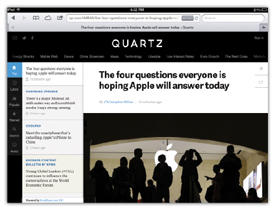 Quartz, Atlantic Media's new international business news pureplay, performed more like a seasoned publication than a startup out of the gate. Just a month after its September 2012 launch, the site registered 800,000 unique visitors. A month later it was up to 860,000 and it just cracked the 1 million mark in December.
Born as a "new media" brand, the site was conceived with mobile in mind, says Kevin Delaney, editor-in-chief of qz.com.
"The growth in readership online is in mobile and in tablet," he says. "When we designed the site, we actually started with tablets as the first design interface. From there, we thought about mobile and then last we thought about desktop. This is very different from the traditional ways that news publishers have looked at mobile and tablet, where generally, they have started with desktops and then retrofit their site to mobile and tablet. The fundamental difference is that we made tablet the real design structural focus, then made sure it worked well in other formats."
"Even on the desktop, it feels like it's something that belongs more to the tablet," he adds.
Aside from its sleek, sliding, responsive HTML5 design, Quartz has emphasized a more mobile type of content distribution strategy. There are no paywalls, no sign-ins—no friction in letting people share and access the stories. The content and format of the articles themselves are even adapted for smartphone and tablet audiences.
"The standard unit of production for a lot of news organizations is a 700-word article," Delaney says. "What we realized is, people actually like to read short and long. They do stuff that's 700 words, but we're not convinced that should be the end goal of any reporting exercise. We're focused on being format agnostic: What is the best way to tell a story? Is that in a few hundred words, or with a chart or a photograph, or is that over a few thousand words for a narrative, analytical piece?"
Delaney admits the wonky, global, macroeconomic slant can sometimes be tough to get through in a single sitting, but the "frictionless" experience minimizes the barriers.
Quartz has come out strong, but still has a lot of energy behind it. Delaney is satisfied with the technical platform they've built and they're ready to tweak and expand it. A contributor network based outside the U.S. is coming within the next six months, he says, as part of a significant investment in expanding the staff. "We're interested, and engaged, in what the future of journalism will be," he says.
PROGRESS SO FAR…
Quartz has enjoyed a 75 percent increase in unique web traffic in just four months. The international business news site, a subdivision of Atlantic Media, is now approaching 1.5 million visitors a month.
Meet the Author
---