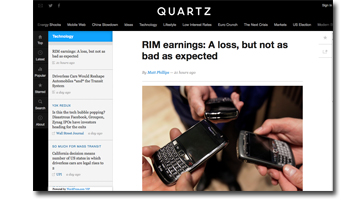 Four days in and I really do like Quartz. I like the catchy categories like "Energy Shocks," and "Low Interest Rates," and "Modern States." I like the simple and clean look. And I like the ease of navigation on my iPad and my iPhone5 (just had to throw that in—kinda like a middle school student who inserts, n'est pa? at the end of sentences, because, well, n'est pas?).
It has its quirks and bugs to work out (some bylines show up with name and "Today at Invalid Date"). It runs a tad slow compared with other sites on my devices (today). But they are smart people and will figure this out. I like how they've aggregated some good content (good and obscure, which is why I generally use Zite rather than Flipboard on my iPad). And I also like how there is good newly-created content.
So that gets me to who is this for? David Carr's New York Times' piece of Monday suggested, "The editorial product is aimed at the front half of the airplanes that crisscross from Zurich to Sao Paolo to Singapore, serving executives who are increasingly having similar conversations no matter where they land. It was built for tablets, conceived as a mobile product for mobile people." So, since I do want to be Tyler Brule when I grow up I wonder what's his take on it.
QZ.com confirms everything we've said in b-to-b media since the year one:  We have highly specialized audiences that are valuable.
What is fascinating about this product is that it takes on trying to appeal to a rarified slice of the world through some original and a lot of aggregated content. Will this work, or will users realize that, since this wasn't their first morning read as they hop scotched across the planet, they are rereading an FT or Reuters or New York Times piece. Might it not be more effective if one only found that content that cannot be found easily? (Note: stay tuned for such a product from Penton to launch shortly)
Anyway, nice start and I look forward to sharing with all of my friends in the Delta Sky Clubs around the globe, n'est pas?