Quartz Creates Mini-Site 'Obsession' Spinoff

Hastheusgoneoffthefiscalcliff.com takes fun, newsy approach to the Fiscal Cliff.
A lounge area in Atlantic Media's Quartz newsroom has been taken over by an alter of sorts to the fiscal cliff. Props, physical puns, crude printouts and other signs are assembled in front of and taped to the area's whiteboard to form the backdrop for a single-serving mini-site dedicated to what's become an obsession for both Quartz and Capitol Hill.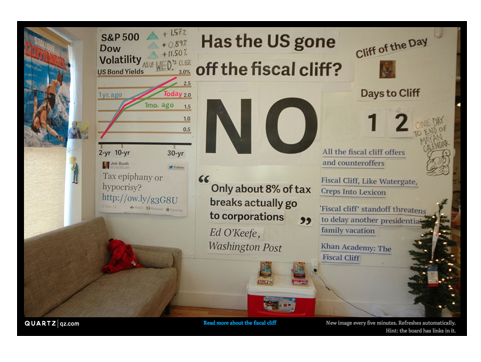 Internally, it's referred to as the "Fiscal Cliff Wall," says Quartz senior editor Zach Seward, who's behind the site's creation.
"Our news coverage in general is oriented around this concept of obsessions," says Seward, referring to Quartz's ever-changing collection of categories that riff off of trending global news themes. "Several weeks ago we decided the fiscal cliff would become a Quartz obsession and we brainstormed some ways to truly take that to heart. The next thing we knew, we were taking apart a corner of the office."
While it's not a full-blown content strategy for Quartz, the dedicated page, Hastheusgoneoffthefiscalcliff.com, has become a clever way for the brand to enhance its "obsession" approach to news coverage. 
Debuting on December 3, the page received 17,000 visitors the first week it was up, says Seward. These days, half of the traffic is repeat visitors, suggesting the concept has earned a loyal following. And 24 percent of the visitors who come to the page end up on qz.com, which has been growing quickly. Uniques are approaching 950,000 for the month of December.
Partly inspired by Isitchristmas.com (click if you must know), the page is a collection of jokey and useful links to all things related to the fiscal cliff. That Cliffhanger poster, for example, links to Amazon's last remaining, for now at least, VHS copy of Stallone's mountain man thriller. Conversely, data wonks can click on the bonds poster and get an update on Treasury yield rates.
"It's taking a dry policy dispute and creating something that's genuinely delightful," adds Seward. "We have one audience that is as obsessive as we are and another that wants to stay informed and doesn't mind an interesting way to approach that."
The wall changes slightly a couple times per day, updating as new developments on the topic arise, encouraging repeat visits. 
The mini-site concept may not become a regular feature—the staff wants its sitting area back, for one thing—but Seward says ideas of creatively presenting Quartz news content will continue to be encouraged.
Meet the Author
---