Quark's App Studio Now Supported By HTML5

New design functionalities can support iPad, Kindle and Android devices.
Design software company Quark is edging further into the multiplatform universe with the introduction of a new version of App Studio, a digital production suite for designing tablet issues and apps.
The new App Studio is a set of tools for designers looking to customize magazine content for different tablet devices—it functions as an online portal for managing apps and publications. By combining HTML5 technology from its recent acquisition of PressRun with Quark's existing digital publishing technology, App Studio is now one of the only digital publishing solutions that allows users to create customized apps with HTML5, QuarkXPress, InDesign, and XML.
"The new App Studio is about enabling everyone from individual designers to large enterprises to be able to create apps sufficiently and effectively to engage audiences," says Gavin Drake, vice president of Marketing for Quark. "Designers can create apps via App Studio by using QuarkXPress, InDesign or with HTML5. They can also automate the delivery of content by XML into App Studio apps as well. Content gets deployed into the App Studio cloud and from there designers can preview, test, deploy and publish content onto multiple devices."
Through a Web-based cloud environment, designers, authors, and extended teams are able to collaborate to create interactive content that can be delivered across multiple platforms.
"There are built-in interactive features within HTML5, and it's an open standard so publishers don't need to worry about their content being locked into someone's proprietary file format," says Drake. "App Studio can be up and running on the latest hardware devices and operating systems without having to reinvent the wheel every time."
The new App Studio allows designers to create in a design format they are already familiar with. The program also affords designers the ability to upload and manage all of the content in the App Studio platform and, once satisfied with the content, designers can test it and then publish it to any device and sell the magazine via online stores.
The publishing platform is enabled for sharing, tagging, bookmarking, comments, slideshows, 360 images, animations, responsive design and videos, among other things.
"App Studio gives you the best of both worlds—it's the same level of user experience that you would get from custom app development without the time and cost associated with it," adds Drake
App Studio comes complete with features to manage multiple layouts of the same publication—as you're designing in horizontal mode an individual can simultaneously see how a layout would look vertically.
"For every behavior there are number of additional configuration options because we want the user to be able to customize the behavior for their particular case—like whether or not full screen is allowed or if a reader has direct control over a slide show, pan and zoom affects," says Dan Logan, QuarkXPress Product Manager for Quark. "We don't want things to feel totally cookie cutter or the same in every publication."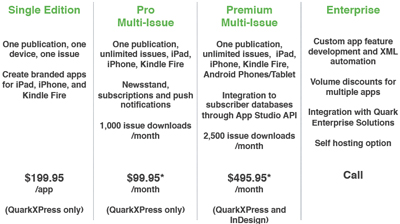 Meet the Author
---