Premium content that attracts a highly-targeted audience can maintain its value in spite of raw volume. That's why instituting a paywall—and likely decreasing your online readership, but increasing revenues from readers—doesn't have to affect your display advertising sales.
The argument in favor of that paying audience has always been one of value: The group of readers willing to pay for content are inherently more valuable than the group who isn't. They're closest to the core of the topic or industry being covered. They're the eyeballs a targeted ad campaign wants even though they might be fewer in number.
That doesn't really matter for The Economist though, says David Kaye, chief revenue officer of the Americas for The Economist Group. With a mix of both, they look at their audience in aggregate and don't differentiate between paying and non-paying readers.
"We look at the site in total, so when we sell you the audience, we're selling you the audience across the site," he says. "From a behavioral standpoint, a psychographic standpoint, a-who-they-are standpoint, there are no differences."
Sona Wuchenich, senior vice president of media planning for public relations and marketing firm FleishmanHillard, suggests advertisers don't really care if it's true or not. Qualified audiences are valuable in spite of volume.
"I don't think about it as paywall or no paywall, I think about who the target is and who's reaching that target," she says.
Size can be overrated, she says. Especially in targeted campaigns, advertisers are going after a type of person, not a number of people. Size does play a role, but quality trumps quantity. The rest is waste.
It's a theme that extends to pricing.
Kaye says The Economist doesn't differentiate between the inventory that all readers see and that which is just viewed behind the paywall.
"We've experimented with different ways of working the paywall, but we've always had it where the rate card that you see from us is the rate card for the total audience," he says.
Wuchenich says a smaller, but more segmented audience can command prices similar to larger, but more diverse sites. CPMs can even be higher in some cases.
Sign-ins—needed for individual users to get beyond a paywall—are one benefit unique to gated sites though, she admits. Working with the publisher, advertisers are often able to break user behavior down to the individual level based on the profile information readers enter in registration. Targeting gets that much more efficient and the audience that much more valuable—no matter its size.
SIDEBAR
Meter Metrics
Freemium paywall meters are tightening and the prices for getting around them are going up, according to a recent report from Press+, a metered paywall platform.
The company surveyed data from its 450-member client base, finding that non-subscribers are given access to just eight articles per month on average, down from 13 articles at the beginning of last year. More than half of the publishers in the study have set their "stop" meters at five articles or fewer.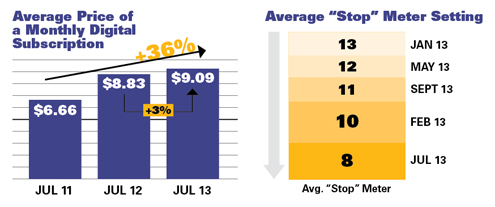 As meters lower, average monthly digital subscription prices are also rising, making the barriers to free content more stringent on two fronts. Press+ reported a 36-percent increase on average prices—now standing at $9.09—over the last two years.
Editor's Note: Folio: is a Press+ client.