Quadra Media

Chris Shannon | President • Don Hellinger | CEO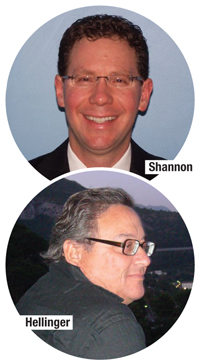 As the credit markets tightened up at the end of last year, and the magazine M&A market—especially high-multiple transactions—ground to a halt, several media M&A firms began offering alternative services, like restructuring advice, in an attempt to keep revenue coming in. Former Berkery Noyes managing director Chris Shannon took a different tack. Shannon left the investment banking firm in December and became president of Quadra Media, a holding company that invests in smaller, underinvested media companies.
"We're looking for small media companies that have dedicated readers and/or users but that are under developed," Shannon says. "They may not have built-out their Web site, event or sales force. We also like properties that have brands that have the ability to stand on their own for possible brand extensions through licensing opportunities."
Onboard with Shannon is Quadra co-founder and CEO Don Hellinger, who also serves as chief executive at Nylon and Inked—a pair of magazines he took majority stakes in several years ago. So far, Quadra has investments in New York-based arts and style magazine Tokion and its conference group, Creativity Now.
What makes Quadra unique is its general expectation of a short turnaround on its investment—in some cases as quickly as 90 days. "Each investment is unique but we're targeting companies with big potential growth, and are looking for a positive impact as soon as possible," says Shannon.
Although Quadra isn't necessarily looking to purchase media companies outright, Hellinger and Shannon do expect to secure financial and operational control.
But Quadra isn't only targeting magazine publishers. It also has an eye on Web, mobile and licensing firms. "We're hoping that Quadra will become a multi-platform media company," Shannon says.

VITAL STATS: Quadra Media is looking have a "positive impact" on its investment as soon as possible—sometimes as soon as 90 days.
Meet the Author
---