Quad Offers Realistic But Promising Outlook on Magazine Trend

New company looks to go public following acquisition.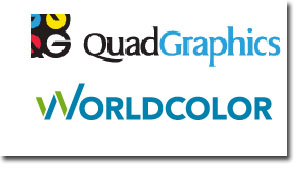 I found this summary by Quad/Graphics of the state of the printing industry to be both sobering and possessing of a businesslike optimism. It comes as part of an SEC filing made on March 5 in connection with Quad's attempt to go public and possible acquisition of World Color later this year.
Print Industry Trends

Demand for printed products has generally correlated with real gross domestic product growth, as economic activity and advertising spending are key drivers of demand for printing and related services.  More recently, the global economic recession has caused advertisers to dramatically reduce spending.  Throughout 2008 and 2009, magazine publishers facing diminished advertising pages reduced total page counts, catalog marketers reduced page counts, circulation and the frequency of print campaigns, retailers curbed investments in store inventory and reduced advertising, and other advertisers reduced their direct mail campaigns, particularly in the banking, insurance, credit card, real estate and nonprofit industries.  Decreasing print volumes caused by the impacts of the economic recession, increases in postage expenses (which significantly outpaced inflation over the last ten years) and the increase in the use of alternative marketing technologies, as discussed below, led many printing businesses to fail and the industry to undergo consolidation.  The printing industry consolidation and decreasing print volumes have created significant pricing pressures and excess capacity in the printing industry.  According to capacity utilization data from the United States Federal Reserve System, the excess capacity in the printing industry, which had not fully recovered from the 2002 and 2003 recession, further increased recently, with printing industry capacity utilization of 67.4% in January 2010, compared to 69.6%, 77.7% and 80.5% in January 2009, 2008 and 2007, respectively.

In response to the economic recession, Quad/Graphics believes that traditional users of print and print-related services have turned their focus to generating and tracking the highest returns on their marketing dollars.  In addition, the emergence of alternative marketing technologies, such as online distribution and hosting of content and mobile technologies, on both a stand-alone basis and in conjunction with other marketing channels, has resulted in these traditional users of print and related services allocating their marketing and advertising spending across a wide and expanding selection of non-print electronic media options.  Quad/Graphics believes that advertisers and other traditional users of print find that they receive the greatest return on their marketing dollars when they effectively utilize data to target the appropriate customers and combine digital alternatives with customized print products in a targeted, multi-channel marketing campaign.

In this increasingly multi-channel marketplace, Quad/Graphics believes that the printing industry has been driven to make substantial capital investments in new technologies, such as those to deliver targeted and customized print solutions to integrate effectively its products and services within a multi-channel marketing campaign.  In addition, Quad/Graphics believes the commercial print industry has moved towards shorter print runs and increased production efficiency of products with lower page counts and increasing complexity.  Finally, Quad/Graphics believes that successful commercial printing companies will invest in finishing and mailing and logistics capabilities to minimize their clients' total manufacturing cost, which includes mailing and logistics (and is not simply limited to print).  For many customers, mailing and distribution represent their largest cost, typically two to three times the cost of their print expense.  Therefore, a printer's ability to impact mailing and distribution expenses through data management and sophisticated, automated manufacturing and finishing equipment is quite valuable to customers.
Meet the Author
---