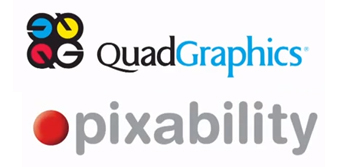 As the publishing industry evolves to incorporate more content and advertising access points, so are the vendors that serve them. Printer Quad/Graphics Inc. has taken a minority stake in Pixability, Inc., a YouTube-certified marketing and advertising firm that works with brands, e-commerce firms and agencies.
"Online video is the fastest growing marketing channel in the world today, and Pixability's proven approach to YouTube marketing and advertising fits well with our media solutions video offering, which includes strategy, concepting, creating, producing and delivering online video for leading brands," Joel Quadracci, Quad/Graphics chairman, president and CEO, says in a statement. "Together, we offer a robust, single-source solution that creates, optimizes and connects content across multiple channels in a way that provides the greatest return on marketing spend."
According to a Pixability blog post on the deal, Quad engaged the firm first as a customer.  This is just the latest multichannel investment the printer has struck—in October 2012, Quad/Graphics announced it would acquire Vertis, Inc., a provider of targeted advertising, media, and marketing solutions, for $258.5 million, as initially reported by FOLIO:.

By making this minority investment in Pixability, Quad/Graphics says that publishers will now have access to solutions that allow them incorporate online video with any of their marketing channels to engage prospects and customers. In addition to working with clients on video content strategy, channel architecture and video messaging, Pixability uses a cloud-based video marketing and advertising platform for YouTube content marketing and advertising.
"We are excited to be partnering with a world-class media channel integrator like Quad/Graphics," Bettina Hein, founder and CEO of Pixability, says in a statement. "The investment and partnership represent a fundamental and critical movement in the future of advertising and customer engagement. With Quad/Graphics, we are not far from the vision of one video per product SKU. Why? Because video is becoming a critical part of the commerce equation."
See Also: 5 Tips for Video-Based Audience Development from Pixability
Check out a video of Quadracci and Hein discussing the deal here: