Quad/Graphics Consolidates Facilities in Canada

Printer says it will invest $23 million in infrastructure and upgrades.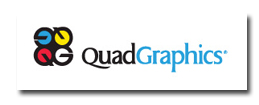 About two months after announcing that it will close five plants and eliminate approximately 2,200 positions before the end of the year, magazine printer Quad/Graphics now says it is restructuring its printing operations in Canada. As a result, the St.-Jean-sur-Richelieu  facility in Quebec will be shut down and the plant located in Edmonton, Alberta will be "refocused" to serve retail insert and directory clients only.
Quad says the 240,000-square-foot facility in Quebec currently employs 270 people and that the company will assist those staffers in finding new jobs. Roughly 30 positions will be eliminated at the Edmonton plant as Quad moves the magazine and other commercial work done there to another facility in Ontario.
The consolidations come as a result of Quad/Graphics' July acquisition of fellow magazine printer World Color Press. The company said the plant closings in the U.S. would result in $225 million in pre-tax savings. It says Quad plans on investing $23 million into its Canadian operation in order to upgrade equipment and improve infrastructure.
After the restructuring, Quad/Graphics will continue to operate eight printing plants in Canada as well as a pre-media facility located in Toronto.
Meet the Author
---