Quad/Graphics Completes Deal for World Color

New company to go public Tuesday.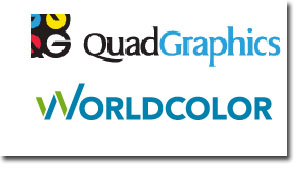 Sussex, Wisconsin-based Quad/Graphics has finalized its acquisition of fellow magazine printer World Color Press. In connection with the deal, Quad/Graphics says the newly-combined company's common stock will start being listed publicly on the New York Stock Exchange today.
As part of the deal, World Color stockholders will have the right to exchange their common shares for 0.2154 shares of Quad/Graphics common stock. In addition, World Color shareholders will receive more than $48.4 million in cash consideration.
According to Quad chairman, president and CEO Joel Quadracci, the completion of the deal marks a "defining moment" not only for the company but for the future of the industry. "We believe in the power of print in a multichannel media world, and we now have more talent, technology and solutions in more places to better serve our clients well into the future," he says in a statement.
Mark Angelson, who was appointed chairman and CEO of World Color last fall, will continue to serve as a member of Quad's board of directors.
Quad says the newly-combined company reported $4.8 billion in pro forma unaudited revenues for the 12 months ended March 31. The new company has roughly 28,000 employees at more than 80 facilities worldwide.
Meet the Author
---