Quad/Graphics to Close Five Facilities In World Color Integration

Printer to realize $225 million pre-tax savings; 2,200 staffers affected.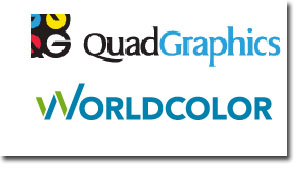 As part of its integration plan following its acquisition of fellow magazine printer World Color Press, Quad/Graphics says it will close five plants before the end of the year. The closures, it says, will result in roughly $225 million in pre-tax savings.
The five facilities to be closed down are located in: Clarksville, Tennessee; Corinth, Mississippi; Lebanon, Ohio; Reno, Nevada; and Dyersburg, Tennessee. The plants represent about 2.7 million square feet and collectively employ approximately 2,200 people. Quad says it will assist impacted employees in finding new jobs, including those available at other Quad/Graphics facilities.
According to Quad chairman, president and CEO Joel Quadracci, "no plant is closing because of employee performance or client service issues, but rather because we are moving work to locations with the most efficient platforms for serving our clients' needs. To the extent possible, we'd like employees to continue with the company and we will review transfer opportunities with them."
Quad/Graphics completed its acquisition of World Color Press last month. The recently-combined company's common stock began being listed publicly on the New York Stock Exchange.
Meet the Author
---