Quad Clears Antitrust Hurdle in World Color Acquisition Process

Deal still needs to meet certain approvals before closing sometime this summer.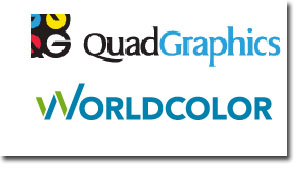 Sussex, Wisconsin-based Quad/Graphics has cleared another hurdle in its quest to acquire fellow magazine printer World Color. The companies have cleared antitrust regulatory requirements in both the U.S. and Canada in relation to Quad's proposed stock-trade buy-out of World Color.
The acquisition could not have proceeded if certain requirements were not met under the U.S. Hart-Scott-Rodino Antitrust Improvements Act and the Canadian Competition Act.
Under terms of the acquisition agreement—which was announced in January—World Color shareholders will receive approximately 40 percent of the outstanding shares of Quad/Graphics at closing and Quad/Graphics shareholders will hold roughly 60 percent. The deal is estimated to be worth $1.4 billion.
Following the deal's completion, Quad intends to become a publicly-traded company.
World Color—formally Quebecor World—filed for Chapter 11 bankruptcy protection in Canada and the U.S. in early 2008. Last May, fellow printer R.R. Donnelley sent an unsolicited letter to Quebecor expressing interest in purchasing the printer for roughly $1.35 billion. Donnelley upped the offer to $1.83 billion the following month but was effectively turned down by Quebecor's board of directors, who at the time said that its own $1.5 billion plan of reorganization offered "superior recovery" and contains fewer risks than Donnelley's offer.
Quad's proposed acquisition still requires approval under the Investment Canada Act as well as other closing conditions. The deal is expected to close sometime this summer.
Meet the Author
---