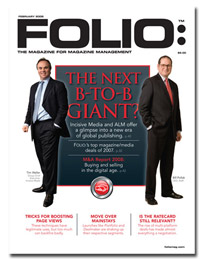 British buyer Incisive is an aggressive entrepreneurial startup with a growing digital business. U.S.-based ALM is a market-leading traditional b-to-b publisher. This Odd Couple could be a perfect match.

Incisive Media is on the fast track. Founded with 10 people, the U.K.-based publisher has evolved from an entrepreneurial startup to b-to-b powerhouse, thanks in part to Apax Partners, a $20 billion private equity fund that backed Incisive group chief executive Tim Weller's $550 million buyout of the company in December 2006. Since then, Incisive has acquired VNU's b-to-b properties in Europe, at press-time was the frontrunner for acquiring Emap's b-to-b properties, and is in the process of integrating ALM, one of the top buys of 2007.
The opportunity is huge: ALM has dominant print and events in its markets but lags in online; Incisive has built an impressive online portfolio with ClickZ and Search Engine Watch. The marriage also opens up the chance to bring ALM's content into Europe and Asia.
But there are some potential stumbling blocks too. Legal is a fairly recession-proof market but ALM could see some softness in its real estate products. The deal also faces some integration challenges. Historically, the relationship between U.S. publishers and British parent companies has been contentious, as evidenced by Miller Freeman, Reed Business, and the latest episode of former CMP CEO Steve Weitzner jumping to rival Ziff Davis Enterprise after a reportedly stingy offer from CMP owner United Business Media. While Incisive prides itself on an entrepreneurial attitude and a "no jerks" policy, its acquisition of Search Engine Watch in 2006 led to the somewhat acrimonious resignation of Search Engine Watch founder Danny Sullivan.
FOLIO: spoke with Weller and ALM chief executive officer Bill Pollak about why
they made the deal, what the plan is next, and how they can avoid the Brit/U.S. jinx.
FOLIO:: Please give us a sense of how the ALM acquisition originated. Was this opportunistic? Were you looking for a U.S. publisher?
Weller: Since 2000 we've been looking for a scaleable U.S. publisher. We've been knocking on the doors of most media specialist banks. We made a couple smaller acquisitions in North America but nothing of this scale. We actually tried to pre-empt this acquisition. In October 2006, just after we announced the management buy-out of Incisive Media but before we had actually gone private, we knocked on [Wasserstein vice chairman] Anup Bagaria's door and tried a pre-emptive process that we were unable to do, unfortunately. But at the end of the day we were lucky enough to buy the business at the same price as when the business went to auction.
FOLIO:: What are you looking at for U.S. properties?
Weller: We'll look at anything at the moment. We'll then put it through a firm acquisition criteria. I'm not going to specifically name businesses since that could drive prices up of some of the targets but if you look at what acquisitions we have done you get a sense of what we're trying to do. We're agnostic in the way we deliver content, so we don't mind whether it's print, online, data or an event business. The key thing we focus in on is that they are leading businesses with brands you can do more with than if they were just in print or online. We're not really in the turnaround business. We're not a company that looks to acquire businesses in need of stronger management. We want to find robust, cash-generative brands in robust markets. Professional services is clearly a market that we're attracted to.
FOLIO:: What attracted you to ALM?
Weller: Three things principally. First thing is we've seen a number of management teams in the U.S. and we were incredibly impressed with Bill and his team. We felt this was a management team we could back to grow more. We might have to bring in more people but this is a sizeable management team with considerable experience. Secondly, ALM's principal business is legal. As an end market that's extremely attractive. Dare I say law firm revenue grows whatever the cycle and the number of attorneys employed grows whatever the cycle. That's a nice backdrop to have. The final real attraction is with the ALM business we were buying some of the most powerful b-to-b brands in the North American market.

FOLIO:: This was anticipated to be a highly valued deal. Why did ALM get the premium
that it did?
Weller: Having started from scratch with a magazine idea, we built a business, went public, and made 90 million pounds worth of acquisitions. We then went private and had the benefi t of some very substantial experience with Apax. It's fair to say what Apax brought to our team, and I think Bill has seen this, is a phenomenal amount of weight they throw into getting a deal done and valuing a business. ALM is attractive because it has data assets, it has subscriptions at its core, it has brand leading positions, and the cost of the capital for us at the time—we bought at the peak of the credit market so we had a very attractive banking deal. Clearly, the more leverage we put to the business the better the negotiated terms.
Pollak: The Incisive and Apax teams are incredibly disciplined when it comes to their acquisitions. They have a whole process to go through. A much more disciplined way than frankly we've experienced in the past or that we saw in potential buyers. They worked very hard on their due diligence and their modeling of components of our business to come to a value.
Weller: We were not exclusively engaged in buying the business but in the second round we were asked to come up with a fully-funded, almost to-sign deal. With Apax's weight behind us, we went out and spent a very sizeable amount of money in doing the diligence and getting the bank case ready. When we put our final offer in, it was literally a 48-hour period before we could sign and complete the exchange.
FOLIO:: What's the opportunity with ALM in terms of building the company itself and using it as a platform to grow in the U.S.?
Pollak: The first focus of our growth is online, then digital information and assets.
It's been a great advantage to us that Incisive six months earlier had done the acquisition of VNU that brought to them some outstanding technology and technologists. In terms of technology, they have an outstanding content management system and a lot of expertise in rolling that across a wide range of Web sites covering a whole series of industry groupings. That includes how to look at a CMS, how to roll it out, and how to think about the business application of that technology.
Weller: Now we've got real scale in North America and that scale will allow us to buy more sizeable businesses. One would hope to see an acceleration of our growth through acquisition, an area where we've been cautious in the past. Because we're quite strong in the U.K. and Asia, there's an opportunity to extend the brands ALM has in North America. Bill has taken ownership and responsibility of our legal publishing assets in the U.K. but we think there's an enormous opportunity for the legal content created in North America in the corporate counsel market and technology space to travel into Europe and Asia.
What ALM has brought us is a much more balanced business in terms of geography. Prior to the ALM acquisition, we were principally a U.K./small-stroke Asian publisher but most of our revenue was out of the U.K. Now we're 45 percent U.K., 45 percent North America, 10 percent Asia. I don't envision that percentage changing, it's not part of our strategic aim to generate revenue out of a specific region. There is no doubt that as a larger business with the CMS we have we should be able to accelerate growth and take advantage of the move to online revenues. We're looking at accelerating our jobs platform globally.
FOLIO:: Has the corporate/operating structure of ALM changed?
Weller: Bill has joined our top team. He sits on the board of the company, he's responsible for the professional services piece, and has an eye over our other North American businesses. But what we've done is actually structure the business so Bill is responsible for the vertical globally. [ALM senior vice president] Jack Berkowitz is now responsible for Legal Week and the U.K. team reports directly through to Jack. James Hanbury, who was one of founders of Incisive, is now responsible for the U.K. and Asia pieces. We haven't made any management changes as far as moving Incisive people into ALM or ALM people into Incisive. One of the things we hope we bring to management of ALM with the new equity incentive and a new owner is a sense of engagement.
FOLIO:: U.S. publishers historically have had a contentious relationship with British
parent companies. Why is that? How do you handle the relationship with ALM?
Pollak: For us, instead of a set of owners on the end of a phone in Manhattan we have a set of owners over in London. We've learned a great deal about juggling time zones. We do a lot of conference calls and setting up of workstream committees. We like the fact that Incisive has a "no jerks" rule—they have a lot of nice people, hopefully they feel the same way about us.
Weller: I think the relationship has got off fantastically. If I was to say one thing, don't dish British parent companies. If you were to look at who leads the world in b-to-b publishing, I would put my foot very firmly forward on behalf of the U.K. businesses. United, Reed, Informa, Euromoney, frankly all these businesses have done a good job building market position. Where are the North American players in the U.K. and in Europe? The Brits see the opportunity and we want to make sure we hand over the opportunity to the guys working on the ground.
Look at where our business came from. We started with 10 people and an idea. We grew the business very organically for the first five years. Our background is from a very entrepreneurial, "risk-your-house" approach. Bill and his team are seasoned managers and they bring a more managerial and strategic point of view. I'm not saying we are without strategy but we have energy and an entrepreneurial culture. We don't manage by committee but we have a collegiate approach. We all have an equity stake. For Bill to earn a sizeable check at the end, we've got to make sure the whole piece works.
FOLIO:: At this point next year, what do you want to see that will enable you to say this acquisition is on track? What are your revenue goals for 2008?
Weller: The combined business is approaching 250 million pounds in revenue, or about $500 million. We've delivered underlying revenue growth historically of 7 or 8 percent. Notwithstanding the fact we're in a tougher economic backdrop, I still think we'll be able to deliver revenue growth across the portfolio.
In a year's time I'd like to see some fruits of our organic opportunity. There is little doubt that there are synergies with our search business and we're looking at opportunities in legal technology. We have diversified our business substantially not only by geography but market. That makes it slightly more comfortable.
Pollak: From ALM's perspective, we want one or two acquisitions of some size under our belts by then. We'll want to have moved forward electronically. We hope with this portfolio of services we will weather whatever happens with the economy.