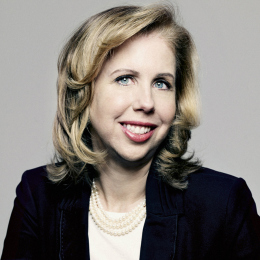 Nancy Gibbs has been a long-time member of Time, but with Richard Stengel's departure to the U.S. State Department, she's now stepped into the role of managing editor—the first woman to hold the position.
While Gibbs takes over a powerful brand, it's one that's been through a tumultuous few years—ad pages continued to fall in the first half of 2013, down 16.8 percent, per PIB, though circulation has stayed roughly the same at 3.2 million, according to the Alliance for Audited Media.
Time is investing heavily in digital journalism, but Gibbs knows a quality product doesn't automatically translate into revenue. The editorial staff's relationship with its sales team, along with the upcoming spin-off of parent company, Time Inc., will have a significant impact on the newsweekly's future.
—
FOLIO: What do you plan to do differently?
Nancy Gibbs: We're in the middle right now—and I've been working on this for months—of a complete overhaul of Time.com, so that's my principle focus at the moment. A lot of this is figuring exactly what we want to do with the site and where we want to take it.
Happily, our print audience is very strong and steady and our digital audience is even bigger than our print audience—I'm the first editor for which that's true—so I think there's a lot of opportunity to grow that. Both in the U.S. and internationally.
FOLIO: Your former boss Richard Stengel steered the magazine through a difficult time for the industry, and for newsweeklies in particular. Is the worst over or this just the new norm?
Gibbs: We all know our industry is in transition. It's a cliché, but that's a challenge and an opportunity. What's excited me is that we've brought in people from so many really robust and interesting media brands.
We've hired from traditional institutions like the Wall Street Journal and Reuters and the Harvard Business Review, and then we've hired from BuzzFeed and Business Insider and Vox and Yahoo. That means that even as our industry is in transition, people want to come to Time and they want to be part of reimaging it for the future.
What we do in print can only benefit from having that much more talent and energy in the organization.
FOLIO: You say print will benefit from the talent and energy on the digital side. Is that going to influence your staffing decisions and resource distribution? Are you going to focus more on developing the digital side and trust that it'll bleed into print?
Gibbs: There was a time way back when where we would have thought about hiring more people for the Web or more people for print—we don't talk that way anymore. I just hired a new business editor [Matt Vella] and it's a business editor for all of our coverage, in print and online. The resources are shared across every place Time commits journalism.
I don't have a strong sense of where print will be versus tablet versus digital versus mobile in five years, but it doesn't worry me. I think as long as we're smart and looking around the corner we're going to continue to be very strong.
FOLIO: Consistent declines in advertising are obviously a big concern for Time, and for newsweeklies, in general. That's not your main focus as managing editor, but how can you help address that?
Gibbs: I think it's important that we're having a very honest and energetic conversation with our business side. I'm aware of the challenges they face.
We're very respectful of the church-state separation here, but that doesn't mean I can't reach out to them and say, 'Let me talk about what I'm seeing, you tell me what you're seeing.' We can have a conversation about the opportunities they see.
We just have to be smarter about, not just advertising, but all our revenue sources. The revenue we get from consumers, the revenue we get from sponsors of conferences and live events, the opportunities we might have in education and other arenas. I think it's too small to think only about advertising and how we're going to cope with the changes in the ad landscape while there are so many other places that we need to be creative about.
FOLIO: How is the upcoming spin-off going to affect Time?
Gibbs: We're very excited about that. Joe Ripp appeared in my office his third day on the job to tell me personally how much Time means to him and to this company. His determination to take advantage of our independence in order to invest in new businesses and new paths to growth is exactly what I was looking to hear.