Q&A with Meredith Corp's Jack Griffin

Meredith's National Media Group is seeing soaring operating profits.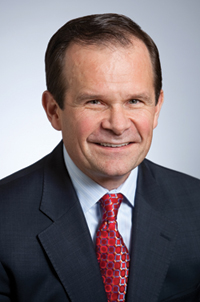 Meredith Corp. was one of the few bright spots for publishing media in 2009, with a tale of sliding (but stabilizing revenue) and increasing profits. Advertising Age named Meredith its "A-List Publishing Company of the Year" in 2009 and in the first half of fiscal 2010 (ended December 31, 2009), Meredith's National Media Group (which includes the publishing business) reported $70.4 million in operating profit, a 23 percent increase over the prior-year period, even as advertising revenue dropped 4 percent to $254.6 million. Through the first half of fiscal 2010, advertising accounted for 48 percent of the National Media Group's overall revenue, with circulation (subscriptions and newsstand) accounting for 26 percent and sales from marketing services, books and brand licensing accounting for the other 26 percent.
Perhaps more importantly, Meredith said its share of overall magazine industry revenue increased nearly four points from 8.7 percent last year to 12.2 percent in the fiscal first quarter of 2010. Of the 18 consumer magazines that posted gains in ad pages in 2009 over 2008, according to Publishers Information Bureau, Meredith had five titles.
Still, Meredith is enduring the reality of the market, announcing last month that it would "reposition" its Special Interest media business (which includes more than 90 special interest magazines, ranging from Diabetic Living to Kitchen and Bath Ideas), eliminating about 45 jobs and recording a special charge of $5.5 million for the second quarter of fiscal 2010 which includes costs for severance. It also plans to cut the number of special interest issues it produces from 150 in fiscal 2010 to 90 in fiscal 2011.
With the first half of fiscal 2010 under his belt, National Media Group president Jack Griffin spoke to FOLIO: about how the group has managed to see growth in print, how it's dealing with a maturing digital advertising market and how the group is boosting profits and efficiencies beyond job cuts.
FOLIO: How has the rebranding and restructuring of the National Media Group paid off?
Griffin: The National Media Group consists of the magazine business, our Meredith Integrated Marketing unit, our brand licensing activities, the database operation, the book business (which is a lot smaller than it used to be) and the consumer branded Web business. That whole construct is between $1.1 billion and $1.2 billion in annual revenue.
We've been on a path now for about five years to do a couple things simultaneously. On the one hand, we've built our business deliberately around an audience—adult American women—as opposed to trying to be the biggest magazine publisher.
Our goal has been to build a diversified business that serves the needs of the audience wherever the audience happens to be. We set it up five years ago as we had some sense of the atomization of media that was to come but it's occurred at a rate that nobody could have guessed. This has served us very well and we've been able to serve the audience and advertisers and marketers in many kinds of ways.
Integration is very easy to talk about but hard to do. We're a public company so it's all there to see. The strategy of building an audience cross platform has been central to the public success we've had.

FOLIO: According to PIB, just 18 magazines grew in ad pages in 2009 and Meredith has several of those titles in Fitness, More, Ladies Home Journal, Better Homes and Gardens and Family Circle. Why is print up?
Griffin: This crushing economic downturn has created some cultural factors in our favor. People are turning inward and our brands are well positioned to speak to women about food, health, family, relationships, etc. 
We generate well over half of our advertising revenue through group and corporate sales units—one is Meredith 360, one is Meredith Corporate Sales, another is the direct response and travel group.
When we call on a client or agency, all of our magazines hang together. They serve a common purpose, which is speaking to adult American women. We're not the biggest magazine publisher but we're the biggest in our segment.

FOLIO: Print sales are becoming much more transactional and formulaic. How does that affect you?
Griffin: If you go back to 2006, we had done our own research and we could see it coming. Media agencies are under more pressure, their clients want to pay less and the process of purchasing print advertising is becoming highly transactional and highly commoditized.
In 2006, we did something that's served us tremendously well by creating two big units—Meredith Corporate Sales and Meredith 360. Meredith 360 is a media neutral, idea-based solutions unit. They deal heavily with clients and they start with a blank sheet of paper.
Meredith Corporate Sales does big deals, and serves more on the side of capturing existing demand whereas Meredith 360 is a demand creator. Meredith 360 is engaging clients on big ideas and going after budgets that aren't about print while corporate sales is designed to obtain the largest possible share on the table. That dual strategy has been at the center of the advertising success we have had.

FOLIO: What is the outlook for print magazines in 2010?
Griffin: We're not seeing a big uptick but we are seeing some signs of life. The first calendar quarter of 2010 won't be up but it won't be down a lot—it will be close to flat. It looks more promising after that. I think 2010 will be a year of modest uptick—but remember, that's coming off a year of really low base. I felt like we were finding the bottom in September and our second half of 2009 was very strong.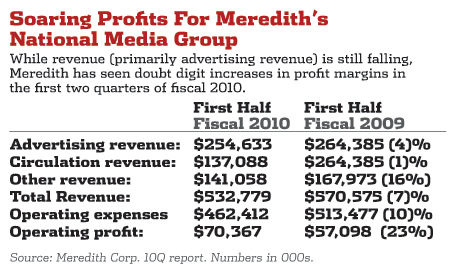 FOLIO:  At the end of fiscal 2009, Meredith saw significant revenue loss. By the end of the first fiscal quarter of 2010, profits were up while the revenue slide had slowed. Why?
Griffin: We took a huge amount of share in calendar year 2009—four points of share in our competitive set. And we did it not at the expense of pricing, which has been flat to down. We get accused by some of our competitors of dropping our drawers but that's one of the times when being a public company is good because it's out there for all to see, and that's not the case.
Our strength built throughout the year. Look at Better Homes and Gardens in December—it was up 40 percent that month. Through three quarters of 2009, total magazine advertising got worse but it wasn't like there was a sequentially improving story in the industry.

FOLIO: Meredith's 2009 10K talks of launching a "three-pronged performance improvement plan" that includes gaining market share, creating new streams of revenue and aggressive efforts to control expenses and manage cash. Please offer some specifics on what each entails and how this will play out in 2010.
Griffin: The first priority is to build market share. We're in a business that is predicated on advertising volume. If you don't have that, there's little you can do. You can't generate enough edit pages for the reader and you're either in an upward or downward cycle. We took four points of market share and six of our magazines grew.
The second piece is, we have done a tremendous amount on the cost side. In the first fiscal quarter of 2010, operating profit for the National Media Group was up 14 percent over the prior year.

FOLIO: Meredith has also done a lot of cost cutting with personnel. Beyond personnel, how is Meredith improving process efficiencies and operating profits? 
Griffin: We've been under way for a year with a 10-point re-engineering plan inside the business. We've done process improvement, internal realignment and we've done a tremendous amount of process improvement with our vendors and we've been able to do it very quietly. It's essential to continue to run without a lot of drama. We're a year into the plan and we've had one of the big management consulting companies helping us but you haven't been reading about it. We've done a tremendous amount on the cost side and re-engineering of processes and remedying of under performing businesses.
We are re-engineering the way we acquire, develop and ultimately deploy content. I caused a stir at the FOLIO: Publishing Summit a few years ago by saying we hire content strategists, not editors. Fitness is a model for how to develop content for a brand across multiple platforms. This is one of our fastest growing magazine-based Web sites. Whenever they do a photo shoot, they also do video. We want to have the piece appear in every possible format.
Getting from the rhetoric to the reality of that is hard. When I said that at the conference, it was provocation more than reality. Today we're much closer to it. 
We relaunched More.com this year—the traffic is smaller than Fitness.com but we trained the team for the Internet and they create daily content and post it themselves. They now have a new technology platform and it's tremendous not just for having a brand that's relevant but also at energizing the staff's career development.

FOLIO: Many publishers are launching social media around print but last year Meredith launched Mixing Bowl magazine as a complement to your Mixing Bowl social network. How is that approach working out?
Griffin: Mixing Bowl has 100,000 members and just under half a million visitors per month. It's not a big money-maker but things like that are pillars of relevance. The benefit of doing it financially is hard to discern but the cost of not doing it—you can't calculate it.
We think about it in the content we create, the relationships we have, the community we engender. Food is a huge community banker. We have to do things like Mixing Bowl to stay in touch with the user base and be relevant to advertisers. It's not Better Homes and Gardens but we can't not do it. We have a lot of initiatives like that on the Web that don't have tremendous scale but are tremendously important.

FOLIO: Digital advertising revenue fell 6 percent in the first fiscal quarter of 2010 but bounced back with a 14 percent gain in the second quarter. Where does digital media fit in and do you have any concerns about this not making up for print fast enough?
Griffin: The numbers I was looking at the other day show in calendar year 2009 show display Internet advertising was down for the first time, about 5 percent. I'm on the board of the Internet Advertising Bureau and that matches the data I see there. 2009 from a display advertising standpoint was tough. We have shown display advertising growth in the second half of calendar year 2009 but the first half was more difficult.
At the same time, there's no getting around the fact that display advertising on the Internet is going to be no one's salvation. There's not enough of it while the inventory online is infinite. There is a tremendous imbalance of supply and demand. In 2010, supply will grow modestly again but inventory is growing at a such a clip that the circle can't get squared. We are not endeavoring to build our digital future on the back of display advertising.
Some of the numbers I've seen on display advertising indicate that something like 95 percent of the dollars go to the top 50 players in terms of uniques, and 75 percent goes to the top four. Everybody else is left with table scraps.
It's really hard to be a traditional media company and say you're going to be a scale leader when you're competing with the likes of Glam and Yahoo. You have to pick a different path. The path we've chosen is high quality, branded content in affinity groups that pertain to our subject areas of expertise: Fitness, parenting, home and food.

FOLIO: How are you monetizing around that content?
Griffin: We're monetizing with advertising, we still generate plenty of that. With many of our highest value segments, like parenting, we sell out our inventory. It's not like advertising has gone away. But seven or eight years ago you could say "we're going to grow 20 percent online every year." That's no longer the case.

FOLIO: Meredith has taken stakes in companies such as Hyperfactory on the digital front. How do you determine what properties to invest in? What else will you be looking for and how will you approach organic launches in 2010? Will any be in print?
Griffin: We've got a business model where magazine ad revenue is just about half of the equation. The second model is a diversified business, driven by customers telling us where to serve them.
Growth in marketing is not happening in traditional advertising, it's happening below the line, it's happening with CRM, it's happening in digital relationship marketing, it's still happening with custom publishing and with mobile.
Five years ago Meredith Integrated Marketing was primarily a custom publishing business. We could tell around 2004 that a huge migration was happening and we set out on a deliberate path to build a diversified marketing services business.
The best example of that is what we do for Kraft—we manage their food and family CRM program and serve them across every dimension. We can do targeted e-mail campaigns, database analytics and segmentation. Our ability to serve them beyond advertising has been fundamental to our success. While advertising fell 19 percent or 20 percent last year, marketing services held in there.
Meet the Author
---