Q&A: The Evolution of Men's Health

How, after hitting 25 years, the magazine has stayed vital as markets change.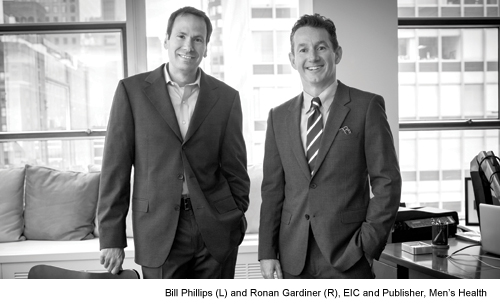 Rodale's Men's Health is celebrating its 25th anniversary with its November issue. Editor-in-chief Bill Phillips and publisher Ronan Gardiner note the magazine started as a long-shot, with men—and brands—at the time seemingly disinclined to be interested in a health-oriented lifestyle magazine. Twenty-five years later, the title is boasting one of its best sales years: Up 25 percent in pages over 2012, up 20 percent in digital advertising revenues, 11 million monthly uniques and a burgeoning event franchise anchored by its new Urbanathlon endurance race, which is attracting upwards of 8,000 participants in multiple cities.
Indeed, for 2013 ad pages will be at their highest since 2007. At around 950, they'll still be short of 2007's 1,176 pages (per PIB), but the trends are headed in the right direction.
Here, Phillips and Gardiner speak with FOLIO: about what it takes to keep a brand vital in the midst of a changing marketplace as well as managing a multiplatform model that still keeps print at the core of the operation.
FOLIO: It's been said that the brand's basic formula hasn't changed over the 25 years, but the industry certainly has. Can you talk a little bit about what you're doing with Men's Health in a contemporary sense that translates that formula into new opportunities?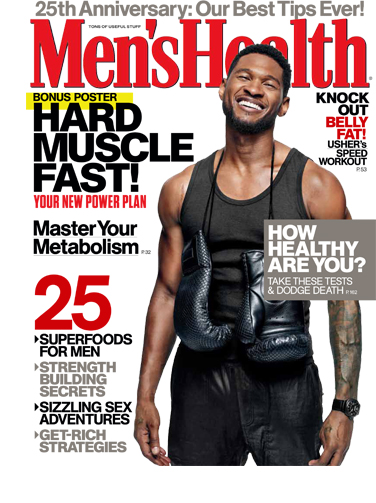 Bill Phillips: The basic mission of the magazine, which is to empower guys to live happier, healthier, fitter lives, hasn't changed. But guys have changed. If you look back at the history of Men's Health, our food coverage used to be 'a man, a can, a plan.' Now our guys want to know what the professional chefs are doing.
We were looking through some back issues and there'd be a guy holding a baby and he'd look confused and his hair would be a mess and he'd be sweating. That's not how guys are anymore. They're very confident and engaged. They want to be the best parents they can be.
They've evolved and the magazine has evolved with them.

FOLIO: Ronan, how does that translate into opportunities on your side of the operation?
Ronan Gardiner: First, people are more focused and committed to their health and wellness today than they ever have been, it's a huge priority. Advertisers want to be a part of that. They want to incorporate their messaging into that conversation. As a result, I don't think the Men's Health brand has ever been more relevant than it is right now. That goes in some way towards explaining why we're having our best advertising year in print since 2007—and digitally in the history of the brand.
So I'd like to think that Bill and his team are not only leading the conversation, they're also responding to it. And advertisers want to be a part of that.

FOLIO: As with the food and parenting categories, as the brand evolves into those new categories of content, does that open up new opportunities for the ad side?
Gardiner: It does, absolutely. We've seen a huge increase in our food advertising [The food category is up 62 percent in November, per Rodale]. And five years ago, I remember sitting in front of the Krafts and the Unilevers and the General Mills of this world and the target at that time was exclusively female. It was women, moms and kids. Little kids were given more credit for food purchases and choice than men were. Today I think food marketers are waking up to the growing influence of men. Increasingly that is creating opportunities for Men's Health.
Grooming is our second-biggest advertising category, and fashion is our number-one category [Up 65 percent and 72 percent, respectively]. For probably the first 15 of our 25 years automotive dominated the top advertising category. Now it's fashion, grooming and food—so the ad mix has changed dramatically as well.
FOLIO: Does brand legacy still matter in today's market, especially in your category? Is that a big part of your story, or do you tend to focus on your audience reach and segments? I'm wondering if buyers put platform and audience ahead of longevity.

Phillips: There are a couple different answers to that. It matters to readers because they know we're a brand they can trust. We live in a day and age where Facebook friends are a source for some people. More and more as people are confronted with choices to make on how to improve their lives I think they're going to gravitate toward the really strong, authoritative brands. And we have that history.
When people touch the brand, they're hooked because they see improvement in their own lives almost immediately. So yes, it absolutely matters.
FOLIO: How are you staying a step ahead and advancing the brand? Where are you focusing your growth priorities?
Phillips: We're doing more technology and travel content. Our food coverage continues to be more sophisticated, as well as fatherhood. We're even getting into some softer subjects. In our December issue, we have an amazing story about the benefits of gratitude. That's not a story we might have touched in the past.
We're extending the 'Men's Health Everywhere' strategy I brought to the digital side to print. In the past, we were waiting for people to find our website and then we took it to where the people are—and now we're extending that concept to print.
Wherever our guys are we want to be there, too, with the ability to pick up the  print product. That's going to be our focus—go to our guys—because we know once they open it, they're hooked.

FOLIO: How will that happen in execution? Do you have new distribution plans?
Phillips: We're working on deals to be distributed in gyms. We're working on hotel deals and some college campus deals. So there's a lot we're hoping to nail down in the near future.
One of the benefits of having that network in place will be our ability to have events at each of these [gym] facilities, that's part of the strategy as well.
FOLIO: Do you ever even sell one platform to a marketer anymore? Or are they now looking for multiple touch-points in one campaign?
Gardiner: Our jobs have changed dramatically in a short period of time. It was relatively recently that we were just selling pages in a magazine. Today, I think we're becoming collaborators with our clients, we're working together with them on the strategy and communication platform and how to best bring that to life.
FOLIO: What's the revenue split between print and digital?
Gardiner: Our digital revenue is now very significant, it's probably 20 percent of our overall ad revenue mix. Given the fact that we're a 25-year-old magazine and the website found its feet a lot more recently, we're very happy with that mix. The goals are very aggressive for the digital portion of our business and with the audience growing so quickly on that platform we expect to be able to deliver on those. 

FOLIO: Freshness is clearly an important consideration as a brand becomes a certain age, how are you keeping Men's Health vital in the minds of your target audience—from both an edit and sales perspective?
Phillips: One of my goals coming in was to bring more surprise to the magazine. To me, it felt like we had a formula and we weren't necessarily taking risks or investing in the big story or surprising idea. That was a big priority for me. So we rebranded our signature front-of-book section, we added new franchises in it. We completed a new redesign. And we're engaging on social a lot more, always soliciting ideas and even content from Facebook and Twitter that goes in the magazine.
You might see it as a small thing, but I though it was an important one, for the first time we acknowledged Gay Pride week and month. There was an outpouring of thankfulness for that—finally Men's Health acknowledged that part of its readership might be gay.
Gardiner: The answer is two-fold. Bill and his team are in tune with what our readers want. The second part is the societal shift towards health and wellness and all the things we talked about for 25 years, but are perhaps more important to more people today than they ever have been.
Over the last three years, we've seen an increase in our millennial audience. We're actually getting younger in print. On our last MRI statement, we were younger, bigger and more affluent. 
Meet the Author
---