Q&A: Dwell Talks Carrying One Editorial Voice from Page to Store

Director of merchandising Josh Mintz explains the brand's united front.
While e-commerce is a new territory for many publishers, Dwell has taken a decidedly integrated approach between what they feature in their magazine pages and what they sell in their online store. Here, Josh Mintz, Dwell's director of merchandising and noted speaker at Folio: and min's MediaMashup event on April 3 in New York City, talks contextualized commerce, the close ties between the company's editorial and commerce teams and why he's not trend watching in 2014.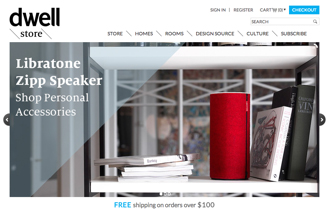 FOLIO: Dwell employs a "contextualized commerce" approach to selling. What does that mean exactly?
Josh Mintz: We see our role as a media company evolving into a destination where modern design can be accessed, digested and purchased on any platform at any time. We have such a strong and unique brand, licensing our name to a standalone retail business would have been the easy way to go, but we felt an obligation to our community to keep control of the customer experience and continue to deliver a product and a level of service that people have come to expect and trust.
We are in the process of integrating commerce into all our platforms—from digital to print to events. That means making our print content shoppable, integrating a point of sale into our trove of online content and to create physical shopping experiences at our live events. We are trying to make inspiration actionable and to empower our audience by creating a seamless experience for them. They've been reading Dwell for 14 years and know what they want, but also constantly look to us for new products and new ideas.
FOLIO: Dwell offers a shoppable magazine and that editorial curation extends to the Dwell Store. How connected or separate are your commerce and content teams?
Mintz: The commerce and editorial teams are a united front and incredibly aligned when it comes to the brands and products we love. There is constant communication and transparency, so we know which ideas and trends we will feature and we can plan accordingly from a retail perspective ensuring cohesion. For instance, this month's "The Great Outdoors" issue features dozens of products, from a $50 planter to a $7,000 outdoor sofa. We make decisions, as merchants, about which of these products to include. Product selection for the Store respects the same voice Dwell has developed since its inception. Our mix of products had to recognize what our readers would expect to find at the Dwell Store, while also giving them the same excitement through discovery they would feel when opening up the latest issue.
FOLIO: What's the big media trend you're following in 2014?
Mintz: We aren't so much following trends, as we are trying to set them. This year we must continue to listen closely to everything our reader—and now customer—tells us. Their loyalty to and passion for our brand as their go-to reference on modern living forces us to work to serve them and wow them with an experience that far exceeds what currently exists online and in brick and mortar. The great thing about commerce is that it is a data-driven barometer for how they feel, supplementing letters to the editors, feedback emails and other mechanisms we use to analyze how we are doing at serving our community.
If your brand's looking to put media innovation to work, register now for FOLIO: and min's MediaMashup event on April 3 in New York City here.
Meet the Author
---