Q&A: Conde Nast Revamps Brides

Includes refreshed edit, advertising strategy and regional integration.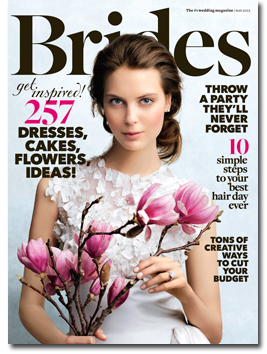 Conde Nast's Brides magazine is undergoing a revamp from content to staff, positioning the book to stand out in a cluttered market. Here, we talk to vice president and publisher Michelle Myers about what's changed and what's next for the title, shortly before the reimagined May issue hits newsstands.
FOLIO: Why the decision to relaunch Brides?
Michelle Myers [MM]:Women really have changed over the last several years, specifically how they interact with media. So many brides these days are making quick, visually driven decisions. She is a crazy omnivorous mobile consumer. We wanted Brides to be everywhere: a strong Web presence, and a redesigned magazine that rethinks the way the reader is consuming it. Readers are now accustomed to e-commerce sites like Polyvore and Net-A-Porter. Our editors integrated these patterns into the visual cues in the magazine.
FOLIO: What's changed about Brides?
MM: We remain a magazine about weddings, wedding dresses, travel and registry. Editor-in-chief Anne Fulenwider's vision is to act like a wedding planner and a stylist for her. With that being said, Fulenwider is refreshing the brand, and expanding presence across all platforms, as well as opening up other topics that haven't really been focused on in the magazine: financials, houses/apartments, etc. We're now looking at the whole life stage.
FOLIO: Is the revamped magazine going to pick up where the 16 folded regional editions left off?
MM: In September 2012, and January 2013 (it will always be in those months going forward), there will be a dedicated section focusing on nine regions in the national magazine. We'll have expanded local resources and services online through our Wedding Genius app and Wedding Wire as wel.
FOLIO: Can you speak more about the "We Love It" marketing campaign? What is the goal of the campaign?
MM: It's one of the most successful programs in Brides history, as we had 22 advertisers participate. It was developed for the relaunch, and it will become a signature program called Brides We Love It.
The entire issue, both in editorial and advertising, can be activated with digitally watermarked branded icon technology which will allow the readers to receive free products, watch video and learn more about the products. The 360-degree program touched print, digital, our digital edition and pushed through all Brides' media touch points. We're partnering with television channel TLC; there are dedicated email blasts, postcards, social media, our bridal event and outdoor creative integrated with the watermarked icons as well.
FOLIO: What does Brides offer in a crowded market? How does the revamp position the magazine?
MM: Fulenwider's content strategy is to use the best editors in the business, but also bring in experts both inside and outside of the wedding industry to contribute for us, both in the magazine and online.
FOLIO: Are there physical changes to the magazine?
MM: In addition to the increased trim size, there's also a new logo. Fulenwider and her team chose from 600 logos. The new logo was is a typeface named Freight, custom made by the typeface artist themselves.
FOLIO: There have been several staff changes at Brides. What does this mean for the magazine strategically?
MM: I can only speak to the business side, but we are one of the few books in the industry that has two associate sales publishers. Lori Silver handles all of my endemic business: bridal designers, retailers, jewelry, travel, etc. Heddy Sams-Pierson is focusing on non-endemic advertisers in order to bring in new, unexpected business to the book. New clients for Brides include Garnier, Biore, Schick and JCPenney Portrait Studios.
Meet the Author
---