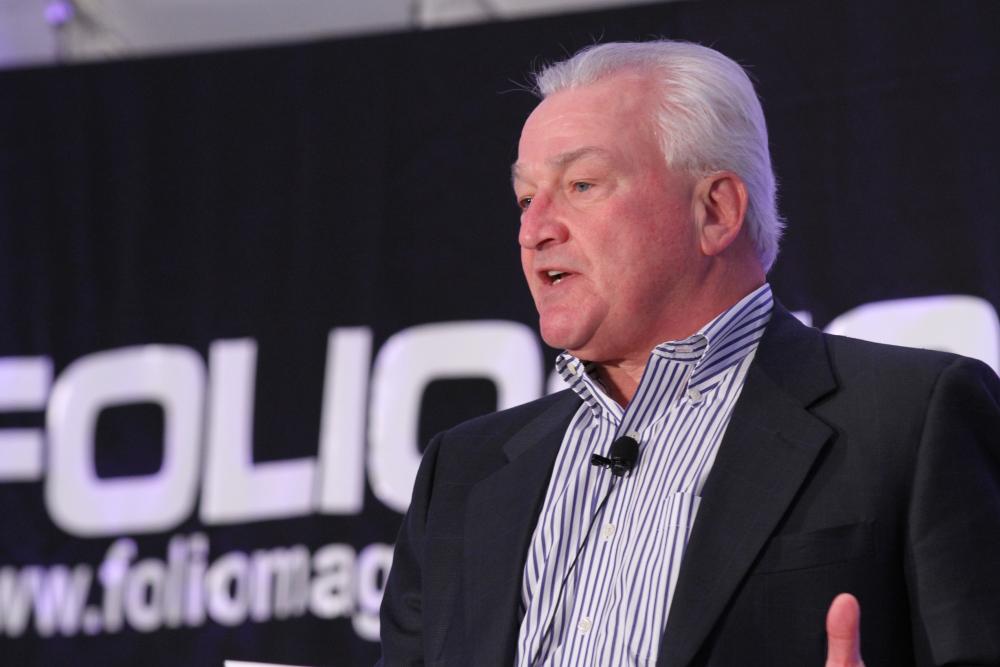 New York—Print isn't dead for many of those honored at the Folio: 100 breakfast Wednesday morning at MediaNext.
"You need a very, very strong print product," said Rance Crain, president of b-to-b publisher Crain Communications. "No matter what we do in other areas, the strong print product gives all our other offers credibility."
"Print is not dead," said John Moffly, president of Moffly Media, noting that it was especially vibrant in the regional markets his company serves.
Andy Weber, CEO of Farm Journal Media, echoed those points in his keynote address—he's seen print advertising revenue grow 35 percent since 2003. But while print made up two-thirds of the revenue pie ten years ago, it's just one-third now.
Mired in debt in 2003, Farm Journal Media was forced find new revenue streams to meet its payments. It deemphasized print and broadcast standbys and incorporated more digital and end-user products.
"We started to attack the market as a unit," Weber said. "We gelled our senior management team to break down silos between TV, Internet and print properties [and] stole major market share in the time."
The company was single-minded in its quest for efficiency until it cleared its debt in 2008. Shifting from survival mode to growth was a challenge though. Management had been focused on streamlining costs for the last five years. Innovation was foreign.
"We had the wrong culture," Weber said, also noting that a diving market didn't make the transition any easier.
Despite false starts early on—"We had a really good plan," he said, "but we failed miserably [at first]"—Farm Journal Media gained traction by continuing to consolidate its efforts that had been spread across print, digital and broadcast operations. New digital and end-user products became the focus as the company continues to post 25-percent annual growth in profits.
About 85 percent of that growth has been organic, with the remainder coming from a few key acquisitions, including the purchase of Commodity Update. The mobile media service provides commodity price updates to almost 80,000 subscribers, up from just 12,000 to 15,000 when it was acquired.
The organic growth has been driven by creativity though, Weber said. While many companies treat creativity as a transient, often-elusive ingredient for success, Farm Journal Media has institutionalized it. Communication—in the form of frequent project meetings and strategic retreats—has been key in developing 23 new products in the last five years.
Weber hopes that creative streak will continue through the next five—he plans to double the size of the company.