Putting the Commerce In Your Mobile

The platform is sponging up e-commerce sales.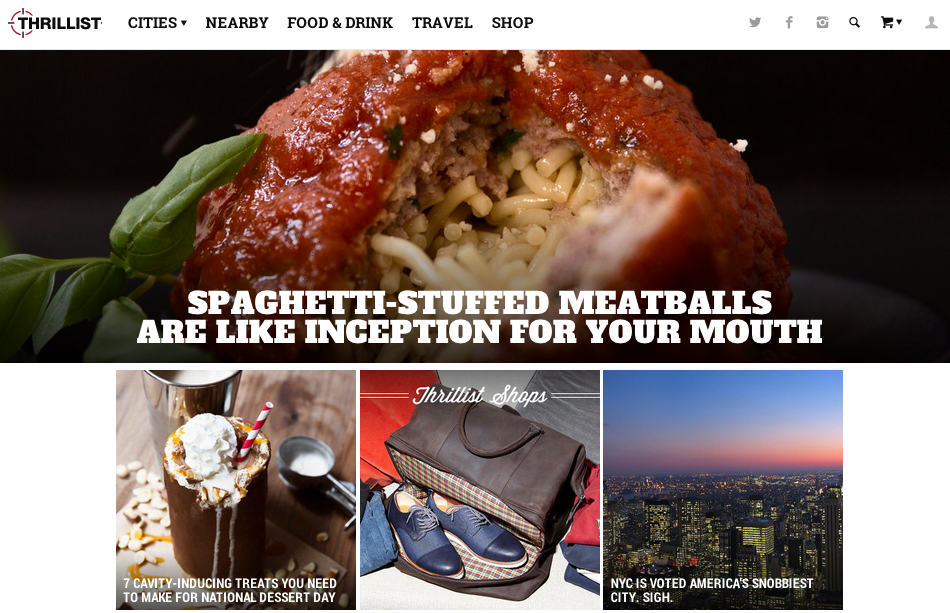 With the rapid rise of mobile, publishers have been making sure their brands are widely available on the platform. These days, that goes without saying, but they might want to throw some commerce options into the mix as well. M-commerce is growing rapidly and Thrillist, a digital content and commerce company with a regional urban flair targeting the young male market, has been able to balance mobile and shopping.
But first, the numbers. Forrester estimates that mobile-based commerce transactions will reach $114 billion by the end of this year-29 percent of online retail sales. By 2018, that figure will shoot up to $293 billion, with the majority of mobile shopping activity happening on tablets ($291 billion on tablets, $74 billion on smartphones). The total, however, will be 54 percent of total U.S. e-commerce sales.
With that kind of growth, if a magazine brand has a clear path to marrying content and commerce, then mobile should be a part of that strategy.
APPS = REVENUE
At Thrillist, the mobile commerce trends that Forrester forecasts for 2018 are already happening. "At this point, our native mobile apps pull in about 50 percent of our revenue," says Annie Trombatore, head of product at Thrillist. "Mobile web is about 15 percent and the rest is desktop. We'd be fools not to prioritize [mobile]."
Trombatore says consumers like the stability of a native app. Plus, Thrillist has learned to slim down the app to do one thing really well-facilitate sales.
Within the native environment, you're piggybacking on the conventions of the platform to make it easy to use, adds Trombatore, leveraging gestures, layouts and forms to make sure the users aren't faced with a steep navigation learning curve.
See also: Add to Cart—Case Studies in E-commerce 
Apps, she notes, facilitate a "very direct connection to the users," so while the navigation and functionality have to be seamless, publishers need to make sure the content is personal as well.
"Our products are designed for the lazy guy who doesn't like shopping," she says. "A lot of it is about how you talk to your customers. You can say two t-shirts for $20, but that's shilly. We've learned that guys don't need the formula. It's more about, 'these are the boots you need to buy.'"
CONTENT NEEDS TO BE PERSONAL
That personal connection is paying off-more than 40 percent of daily purchases are from return buyers, says Trombatore. Overall, Thrillist counts 6 million active members across its network of 21 regionally-based sites- along with its men's fashion and commerce brand Jack- Threads-that serve up recommendation-themed content on eateries, bars, gear, travel and entertainment.
Meanwhile, the content also has to stand on its own. Thrillist doesn't do reviews, it curates only what it thinks are the best products and destinations in its categories. That puts a premium on the browsing experience, meaning if customers aren't in the mood to buy, then there'd better be good content to keep them engaged with the site or within the app.
"We're surprised at how many guys are browsing. It's almost like perusing a magazine, so we're making sure the content is worth looking at even if they're not looking to buy," says Trombatore.
Meet the Author
---