Putin Named Time 'Person of the Year'

Russian president beats out Al Gore.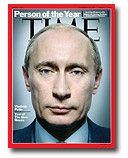 It's "Putin," not "You," in 2007.
Time magazine unveiled its perennially-hyped "Person of the Year" today. That person? Vladimir Putin.
The Russian president beat out Al Gore, J.K. Rowling, world leaders such as Hugo Chavez and Mahmoud Ahmadinejad, and "Mother Earth"—NBC Nightly News anchor Brian Williams' choice—for the honor. The announcement was made by Time managing editor Richard Stengel on the Today show.
Putin was chosen "for an extraordinary feat of leadership in taking a country that was in chaos and bringing it stability," Stengel said.
Last year, the magazine was criticized—and equally applauded—for its selection of "You" as Person of the Year.
Meet the Author
---